Asian Games Weightlifting: 5 World Records
Incheon, South Korea—Picking up where things left off yesterday, it was another day of superb weightlifting at the Asian Games, with two world records set in the women's 53-kg category and three set in the men's 62-kg category.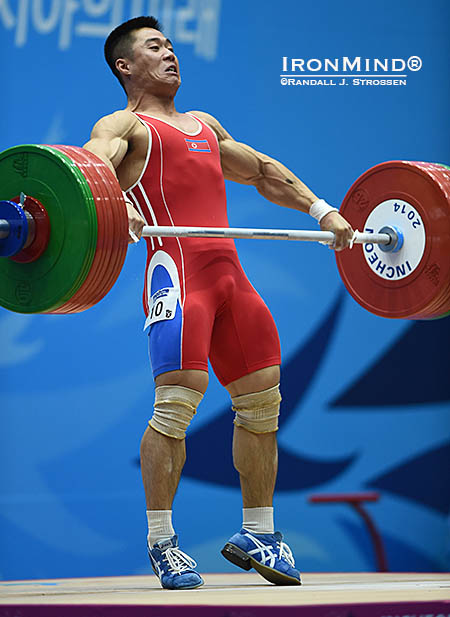 Kim Unguk cranks on this 154-kg world record snatch—the first of three he set tonight at the 2014 Asian Games. IronMind® | Randall J. Strossen photo


Zulfiya Chinshanlo (Kazakhstan) got the ball rolling with a 132-kg world record clean and jerk in the women's 53-kg category, a great lift, but Hsu Shu Ching (Taiwan) must have thought "Me too," because she matched the lift for a world record in the total and the gold medal.

The 62-kg men featured Kim Un Guk (North Korea) and Chen Lijun (China)—Kim is the 2012 Olympic champion and Chen beat him by 1 kg to win the last year's world championships.

The snatch was all Kim, as he ran through 147, 152 and then 152 kg, good for a world record and an 11-kg lead over Chen going into the clean and jerk.

Kim opened with 170, Chen with 173—Kim made a good lift and Chen missed the jerk. Chen repeated for a successful second attempt and Kim replied with a good 174-kg lift, which gave him the world record in the total. Chen made 178 kg on his third attempt, and Kim matched it on his third attempt, for another world record in the total.

###



Visit the IronMind Forum: talk strength, discuss this story. Strongman, grip, Highland Games, Olympic lifting, stones and more.

You can also follow IronMind on Twitter and on Facebook.