Asian Games: Lin Qingfeng Wins the 69s
Incheon, South Korea—No world records tonight in weightlifting, but winner Lin Qingfeng (China) took two shots at a 200-kg clean and jerk, although he couldn't stand up with the weight either time.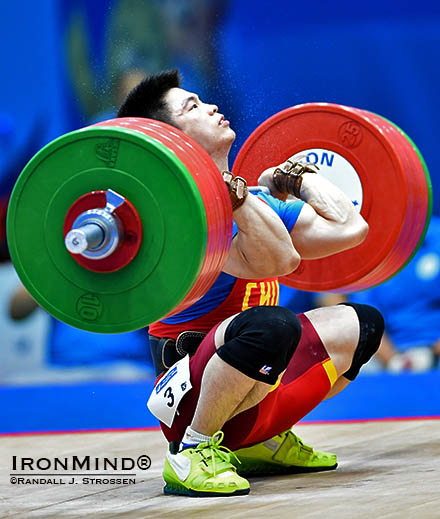 Lin Qingfeng hits rock bottom with 200 kg, attempting a world record in the clean and jerk at the Asian Games tonight. IronMind® | Randall J. Strossen photo


It was all Kim Myonghyok (North Korea) and Lin Qingfeng, and they battled it out from the beginning as Kim, the heavier lifter, shadowed Lin in the snatch—raising each of Lin's attempts by two kilos, as both lifters made three good snatches. Kim flew under 160 kg on his third attempt, had to adjust a little when he hit rock bottom, saved the lift, and that put him two kilos ahead of Lin going into the clean and jerk.

Kim opened with 182 in the clean and jerk, for a good lift, and then Lin followed with a good 184-kg lift on his opener, to go into the lead on body weight. Now the test of nerves began as both lifters jockeyed for position: Kim cleaned 190 kg on his second attempt, but missed the jerk, and that kicked off a frenzy of changes that culminated in Kim taking 198 kg on his third attempt.
Kim racked the bar, started up, but could not stand with the weight. Lin called for 200 kg on his second attempt and did the same thing as Kim had with 198 kg, and then did it again on his third attempt.

###

Visit the IronMind Forum: talk strength, discuss this story. Strongman, grip, Highland Games, Olympic lifting, stones and more.

You can also follow IronMind on Twitter and on Facebook.