Arsen Kasabiev Back in Training
He was the 2005 Junior World Champion, but more than even that, Arsen Kasabiev (Georgia) was the latest star lifter being groomed by Ivane Grikurovi, the Georgian weightlifting coach who has been the force behind such top tier competitors as Kahi Kahiashvili (Akakios Kakiasvilis), George Asanidze and Szymon Kolecki.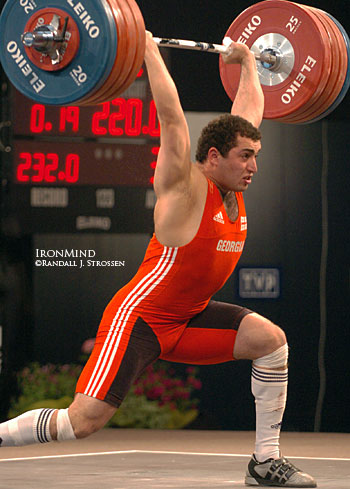 Showing his mettle, Arsen Kasabiev might have bombed in the snatch at the 2006 European Weightlifting Championships, but he came back to make this 220-kg gold medal clean and jerk in the 94-kg category. IronMind® | Randall J. Strossen, Ph.D. photo.
"Before Arsen was injured, I expected the fight for the gold medal in Beijing to be between Arsen, Szymon and Ilya Illin," Grikurovi told IronMind®, referring to upcoming Olympic battle in the 94-kg category. With Kasabiev hurt, things were pointing toward a two-horse race, but that might be changing again.

Arsen Kasabiev had surgery on his knee in December, Grikurovi said, and he is back in training now, so it might be too early to count him out of the hunt. In the meantime, if all goes well, look for him to start at the World Weightlifting Championships later this year.