Arsen Kasabiev: 94-kg Champion at the European Weightlifting Championships
Minsk—Coming on the heels of the tragic plane crash earlier today whose fatalities included Polish President Lech Kaczynski, a recently-minted Polish citizen, Arsen Kasabijew, won the 94-kg class at the 2010 European Weightlifting Championships.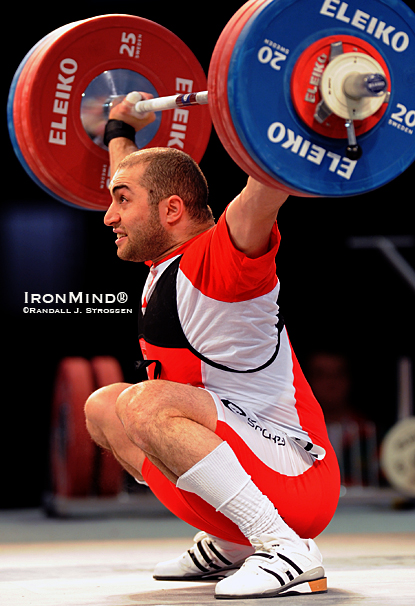 Arsen Kasabijew got off to a rough start, missing 171 kg on his first snatch, but then came back to make this lift on his second attempt, and then he went on to win the gold medals in the clean and jerk, and the total. IronMind® | Randall J. Strossen photo.


Kasabijew didn't have a picture perfect start as he missed his opening snatch, 171 kg, came back to make it, and then he hit 176 kg. Artem Ivanov (Ukraine) ended up with the gold medal in the snatch with his good lift of 180 kg on his second attempt - the door being opened when Hadzhimurat Akkaev (Russia) was injured on his final warmup (175 kg), and then failed three times with 180 kg.

Kasabijew ran through 211 kg and then 216 kg in the clean and jerk, and after Rovshan Fatullayev, who had made 215 kg, missed 217 kg on his third attempt, Kasabijew's 216-kg success was going to hold up for the jerk and total gold medals. Nonetheless, he called for 220 kg, but missed the jerk.