Explaining how Arnold Schwarzenegger's relationship with the fitness industry has had to change now that he is the governor of California, Jim Lorimer told IronMind® today that the world's most famous governor will be back in Columbus, Ohio in 2006, even though he will no longer be paid for his participation.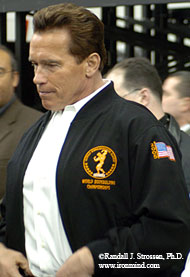 On his way to yet another appearance, the world's most famous governor, Arnold Schwarzenegger, emerges into the service corridor behind the main expo stage at the 2005 Arnold Fitness Weekend. IronMind® | Randall J. Strossen, Ph.D. photo.
In order to eliminate conflicts of interest - whether actual or only in appearance - Governor Schwarzenegger recently resigned his paid editorial positions at two major fitness industry publications, and now he has taken a similar step in terms of his relationship with the Arnold Fitness Weekend, where he will no longer receive any compensation for his role in the world's largest fitness exposition.

For his many fans, though, the change will be invisible because, "Arnold will still be there and perform in the way that he has for the last 31 years," Lorimer said. "It's just that now he's doing it for free."