Arnold Strongman: Event Preview?
What's got a three-inch handle, 12-inch diameter ends, weighs a lot, and gets lifted with one hand?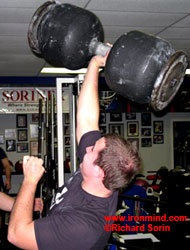 Arron "Meatball" Provence hoists the massive dumbbell that you might see in action at the Arnold strongman competition. IronMind® | Richard Sorin photo.

Richard Sorin calls 16-year-old Arron "Meatball" Provence "a young grip star," but what might also catch your eye is the dumbbell that could be appearing in this year's Arnold strongman contest - made by Sorinex, the hollow globes can be loaded to boost its weight (114 pounds empty), and, as shown, plates can also be attached to the ends of the globe.

Looks like the Inch went on the SUPER SQUATS program.