Arnold Chairpersons Report on Progress: Strongman Competitors Confirmed
Columbus, Ohio - With everything from ballroom dancing to boxing, the Arnold is living up to its goal of getting bigger and better each year, and listening to the reports from the various chairpersons involved, no matter how wowed you were in 2005, you'd better get ready to hold onto your hat for 2006.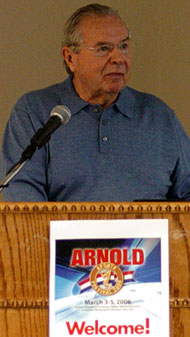 Jim Lorimer, the man who had the vision, the talent and the commitment to create the world's largest multi-sport fitness expo, known most simply as The Arnold. IronMind® | Randall J. Strossen photo.
If you want an idea of what's coming up that's new this year, consider the Friday Night Fights, speed skating and hockey skills - just for starters.

If you're a strength fan, you already know that the Arnold has one of the world's most prestigious strongman contests and if you like surreal numbers, way-off-this-planet lifting from the WPO will have you have you screaming for more. Arm wrestling fans are in for something special as this year is going to see a convergence of most of the sport's bold face names. Weightlifting, first introduced in 2003 by the Columbus Weightlifting Club, continues to grow and this year their competition will be three days, and IronMind® is once again spearheading the weightlifting exhibition on the main stage that will feature four medalists from the Athens Olympics.

Steve Slater, the man who makes the molds for casting your own concrete stones, reported on the official start list for the 2006 Arnold Strongman, and it's an all-star field, so pick your favorite and start cheering now: Zydrunas Savickas, Vasyl Virastiuk, Mikhail Koklyaev, Phil Pfister, Mariusz Pudzianowski, Raimonds Bergmanis, Dominic Filiou, Brian Siders, Benedikt Magnusson and Glenn Ross.