Armwrestlers Are Ready to Shine at Crystal Bay
For ten years, the USAA Pro-Am has sparkled at the Tahoe Biltmore Lodge and Casino in Crystal Bay, Nevada on the shore of Lake Tahoe, and this year, USAA President Leonard Harkless explained to IronMind, a new contest "The Brawl for it All" is being introduced in what is becoming a historic spot in the world of arm wrestling.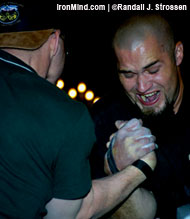 Kenny Hughes (right) digs for all he's got and primes himself for a Crest commercial, but it wasn't enough to hold off masters puller Bob Wardrip at the 2004 Crystal Bay contest. IronMind® | Randall J. Strossen, Ph.D. photo.
From around the world, the top guns in the sport have made their way to Crystal Bay and this year will be no exception - especially because this is the second qualifier for those prized slots at the 2007 Arnold. And for the women who are battling it out at the table, there is some more good news for next year's Arnold: Leonard Harkless said that in addition to the women's 143-pound and under class, a 144 - 176-pound class has been added, so any women who weigh in accordingly at Crystal Bay this year will have a chance to earn a space in the 2007 Arnold roster in this new category.

The 1st Annual Brawl For It All is June 10 - 11 at the Tahoe Biltmore Lodge & Casino in Crystal Bay, Nevada - about a half hour drive from Reno. Over $12,000 in cash and prizes will be awarded and for all the details, please check US Armwrestling's website.