Arms and Grip Galore: New Magnus Samuelsson DVD is in Production
Strongman producer Colin Bryce said that filming has begun for the new Magnus Samuelsson DVD, and that it will include attempts at closing a No. 4 Captains of Crush® gripper and breaking the world record in the Rolling Thunder, as well as in the heavy stones - so if you want bigger, stronger arms, and a world-class grip, here's your chance to learn from someone who personifies all three qualities.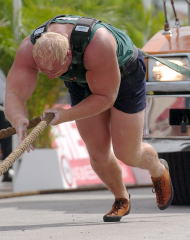 With some of the world's very strongest hands and arms, Magnus Samuelsson grabs a winning time in the truck pull at the 2004 WSM contest - when you have arms with this kind of size and strength, it's almost like having an extra pair of legs (Paradise Island, Bahamas). IronMind® | Randall J. Strossen, Ph.D. photo.

Colin Bryce said that World's Strongest Man winner Magnus Samuelsson will also explain some of the more technical aspects associated with strongman event training, as related to arm power, such as the stones and arm-over-arm pulling events. And for those of you who are interested in arm wrestling, Magnus, who was the European champion in the sport before he got into strongman, will give you an introduction as only he can.

Not to sound like a late-night infomercial or some self-promoting spammer, but there's even more, so stay tuned and we'll keep you posted on how things are developing.