Look for an extension of the already close collaboration between IronMind and the World Armlifting Association as the heads of the two organizations, Randall Strossen and Alexander Filiminov, respectively, heartily endorsed a proposal to do just this.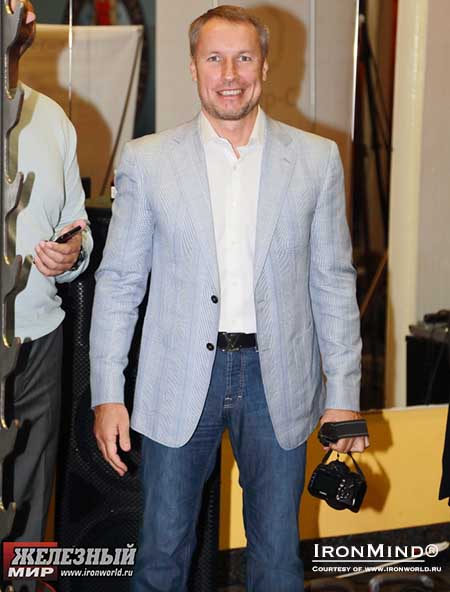 Alexander Filiminov, president and founder of the World Armlifting Association (WAA) and the Russian Armlifting Association (RAA), has built the sport into the world's most widespread grip strength competition format, using standardized, well-established and broadly accessible events: Rolling Thunder, Captains of Crush (CoC) Silver Bullet Hold and Apollon's Axle Double Overhand Deadlift. IronMind® | Image courtesy of www.ironworld.ru.


Armlifting began in 2010 when Alexander Filiminov approached Randall Strossen about the possibility of holding Rolling Thunder competitions in Russia, and the two organizations have been working together ever since.

Strossen pointed to the impressive way that Alexander Filiminov and such colleagues as Andrey Sharkov have developed the sport, opening it up to a wide range of competitors and expanding the format to include the Captains of Crush (CoC) Silver Bullet Hold and Apollon's Axle Double Overhand Deadlift, along with the core event, the Rolling Thunder.

Major international competition on the Rolling Thunder goes back to 2000, when Odd Haugen asked Randall Strossen if IronMind would like to sponsor the inaugural Rolling Thunder World Championships as the kickoff for Haugen's top-drawer Beauty and the Beast strongman contest in Hawaii. Staged in a sports bar, and including both World's Strongest Man winners and walk-ons, the contest was a hit and would go on to be held in such high profile venues as the Mohegan Sun.

For years, the Rolling Thunder was dominated by Mark Felix, with only Laine Snook's training lifts exceeding Felix's world records, but a Russian grip specialist, Alexey Tyukalov, announced that it was his goal to break Felix's world record. Initially, that might have sounded like an unlikely goal, but Tyukalov realized his dream and along the way has also been a world record holder in the CoC Silver Bullet.

Last month, Strossen and Haugen were invited to the 2013 Armlifting World Championships in Moscow, Russia and while Strossen was unable to attend, Haugen went, competed strongly, and returned filled with praise for the contest, its organizers, participants, and sponsors.

From there, Strossen and Haugen talked about the possibility of bringing Haugen's premier grip contests (held at the Los Angeles FitExpo and the San Jose FitExpo) under the armlifting umbrella and both agreed it was a good idea. Strossen contacted Alexander Filiminov, proposing extended collaboration between IronMind and the WAA (and its affiliates), which received a very positive reply along with an invitation for Strossen to join the WAA board, which Strossen said he was honored to accept.

Odd Haugen told IronMind he's excited about these developments, and he's looking forward to welcoming top armlifters from around the world to his next big competition, at the Los Angeles FitExpo in January.
 


#

Want to talk strength? Join the IronMind Forum.

You can also follow IronMind on Twitter and on Facebook.