Armlifting: Big Lifts on The Rolling Thunder
The Bristol Hotel in Yalta, Ukraine hosted the second Open Championships of Crimea in Armlifting, the name given in former Soviet countries for the sport of competing on the Rolling Thunder.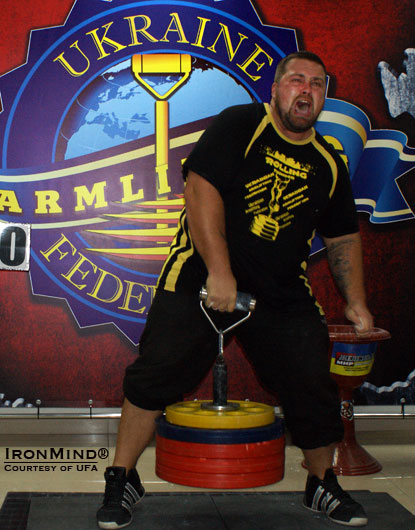 Andrey Sharkov set a new Ukrainian record on the Rolling Thunder, 114 kg, at the Ukrainian Armlifting Championships. IronMind® | Courtesy of UFA.


In what was described as a "festive atmosphere . . . in a comfortable hall," the sportsmen battled it out for top honors and Andrey Sharkov "set a new absolute record for Ukraine: 114 kg" and then had a good try with 120.5 kg, proof of his stature on this world standard of grip strength.

On the women's side, Iryna Postnikova succeeded with 58 kg, and twice lifted 66 kg but could not quite lock out the lift.

Following is the complete contest report filed by Andriy Sharkov, president of the Ukrainian Armlifting Federation.


Rolling Thunder Championships in Ukraine
by Andrey Sharkov
President
Ukrainian Armlifting Federation

In Yalta, Ukraine of November 19 in the conference hall of sporting hotel Bristol, The Open Armlifting Championships of Crimea were held. Armlifting is a type of sport, swiftly growing throughout the the CIS, using the "Rolling Thunder." Task of athlete: to lift up the most weight. The Rolling Thunder is constructed so that the basic loading is carried on the fingers of the sportsman.
Gladness and emotions of sportsmen, comfortable hall—an indeed festive atmosphere turned out.

In a persistent fight first place was taken the by the command of Simferopo lsporting club "Bargest," second place in a tournament after a command from Sakskiy district, on the third are owners, sportsmen of Yalta. Thus sportsmen maintained the string of prominent results.

There are a few records of Ukraine, among which the best, in execution Andrey Sharkov! Andrey set the new absolute record of Ukraine: 114 kg. He then went on to 120.5 kg, but it, certainly, there was a gamble, although the weight did not stand in dead position!!!

For women the simply indelible impression was produced by appearance of Iryna Postnikova from Simferopol: 58 kg, new record of Ukraine, and on 3 kg exceeds the record of the world of WAA [World Armlifting Association]. But its attempt to heave up 66 kg... Lifted once or twice, but did not fix so. Ouch, stick to records of all times and people, the Crimean go!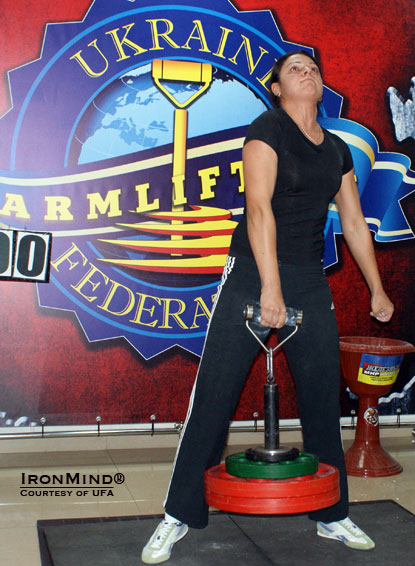 Iryna Postnikova attacking 66 kg on the Rolling Thunder at the second Open Armlifting Championships of Crimea. IronMind® | Courtesy of UFA.


Renewed the junior records of Ukraine also: Michael Fedorov from Sevastopol in the category of 85+ his result 98 kg and Enver Akka in a category 85 kg with a result 80.5 kg. Ismailov Niyas surprised a new record in weight category to 70 kg among men, his result of 68 kg at own weight 63 kg.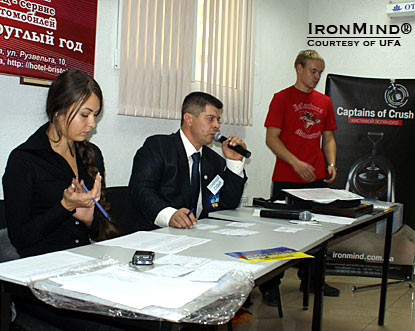 Professional organization is a key to UFA's success. IronMind® | Courtesy of UFA.


And what was costed by the fight of girls in weight category to 60 kg? When to the latest approach was not clear, as places will be distributed on the pedestal of honour. In the total by a champion ARE Crimea the known sportswoman became from Kerch, Yana Khomich. Yana fixed 50.5kg and on own weight beat the champion of Ukraine of this year, Julia Dvorskaya, which by approach before, similarly managed with this record weight. Thus,Yana became a champion. Julia took the second place, but, nevertheless, is the record-holder of Ukraine, because she was the first to lift this weight. And the third place for Anastasiya Goncharenko, who attacked 51 kg, but weight did not come to heel a sportswoman and Nastya thus made off competitions with the result of 45.5kg, as noted by Vyacheslav Gorbunov, vice-president, UFA (the Ukrainian Federation of armlifting).

In all in competitions on raising of weight with one arm, 36 sportsmen took part from the different regions of Ukraine! Yalta and Hotel Bristol, as usual, were very hospitable! Train force of grip, make friends, and meet at competitions!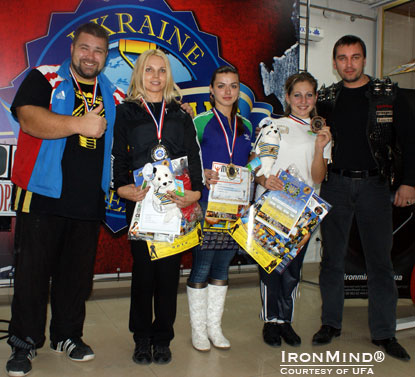 The Ukrainian Federation of Armlifting makes competition on the Rolling Thunder fun, challenging and open to all. IronMind® | Courtesy of UFA.

###

The IronMind Forum: discuss this article, talk strength, get help with your training.

You can also follow IronMind on Twitter.