Arild Haugen: Another Win
Arild Haugen won the Norway's Strongest Man Qualifier in Kristiansand over the weekend.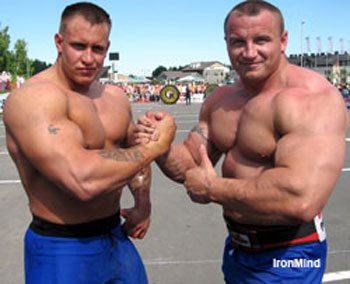 Arild Haugen (left), who just won the qualifier for the Norway's Strongest Man contest, has been billed as "the next Mariusz" (right). Not a bad label when you're a strongman. IronMind® | Photo courtesy of Viking Power.

Arild made quite a splash when he broke onto the strongman scene and it looks like 2007 is off to a good start for him. But there was more big news, too, as Lene Karlsen told IronMind® that second place went to "a very BIG man" named Richard Kog. Richard is six feet, six inches tall, 150 kg and 26 years old, Lene said, so is it any wonder that she summed up her opinion by saying, "This is definitely a man of the future!"

Showing that talent can be found in diverse areas, Lene continued, "Also very impressive was a 16-year-old boy who came, inspired by Svend Karlsen's Viking Power training DVD. He never ever tried strongman equipment before, but he lifted the 160-kg stone up 130 cm on his first try! Wow!!"

And if you wondering what this kid does if he's not an aspiring strongman? He's a snowboarder . . . .

IronMind® heard that it was tough for the Svend "Viking Power" Karlsen to sit out the contest, but don't think retirement has turned Svend into a couch potato: We heard he can still flip a 500-kg tire . . . "easily."