Arild Haugen . . . Rocket Man
If your space exploration program is looking for an alternative launching system, consider the services of Arild Haugen, who put on a dazzling performance at the opening day of the qualifying round of the 2006 MET-Rx World's Strongest Man contest today.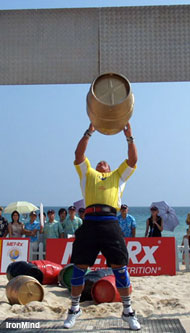 Arild Haugen launches another barrel at World's Strongest Man today - his phenomenal performance on this event left even World's Strongest Man veterans at a near loss for words. IronMind®

This event tested the ability to generate explosive power repetitively as each competitor had 90 seconds to try to throw a series of ten barrels over a 4.5-meter-high wall. Most competitors got from zero to about half the barrels, but Arild Haugen winged them all in a blazing time of 41 seconds.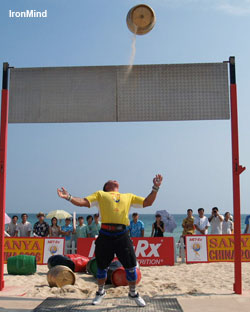 Tell it goodbye - Arild Haugen outperforms some ICBM systems. IronMind®