Aramnau Who? Wins the 105s . . . Sets Two Junior World Records
Chiang Mai, Thailand - It was a field loaded with big names, but it also turned out to a class that held more than a few surprises.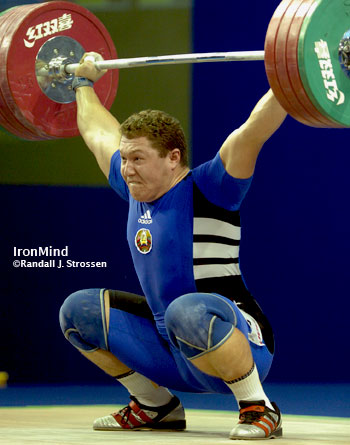 Rock steady, this was the third of six good lifts that Andrei Armanau (Belarus) made in the 105-kg category tonight at the World Weightlifting Championships. This 195-kg snatch, good for the gold medal in the snatch, coupled with his clean and jerks of 225 and 228, gave Aramnau two junior world records in the total. He also won the gold medal in the total. IronMind® | Randall J. Strossen, Ph.D. photo.
Bakhyt Akhmetov (Kazakhstan), often good for at least one lift sent flying toward the referees, knocked off three solid snatches, with his feet or the bar barely moving from their starting positions, to finish with 190 kg and the silver medal. The gold medal in the snatch went to Andrei Aramau (Belarus), the 2007 Junior World Champion, who was making his debut at the Senior Worlds so he had many people asking Aramnau Who?, but after tonight, he will need no introductions. This guy, who even the most knowledgeable insiders described as a "darkhorse," smoked 187, 192 and 195 kg in the snatch - up, down, up down, up down - and that was good for the gold, with things maybe made easier when the reigning world record-holder, Marcin Dolega (Poland), struck out with 193. Martin Tesovic (Slovakia) was good for the bronze medal in the snatch with 190 kg.

So, Akemetov didn't hurl the bar, Ramunas Vsyniauskas (Lithuania) didn't do his WWE impressions . . . and Alan Tsagaev (Bulgaria) won the clean and jerk: After making 217, missing the jerk on 226, and then jumping to 231, Tsagaev appeared to have certainly missed the jerk again, but he sank lower, kept the bar overhead and was probably the most surprised guy in the competition hall that he made the lift.

Armanau got the gold medal in the total with 423, the second of two junior world records he set in the total tonight. Tsagaev edged Dmitry Klokov (Russia) on body weight for the silver medal in the total, both at 411 kg.