Apti Aukhadov Sparkles in the 85s
He's the defending Olympic silver medalist, big stuff in itself, but besides just adding the 2013 European Championships title to his collection, Apti Aukhadov (Russia) put on a show that marks him as the man to beat in weightlifting's 85-kg class.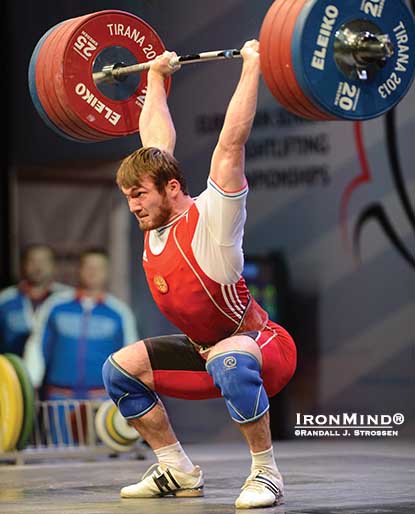 Apti Aukhadov destroyed this 215-kg clean and jerk as he swept the gold medals in the 85-kg category at the 2013 European Weightlifting Championships. IronMind® | Randall J. Strossen photo.


Aukhadov started his six-for-six night with 166 kg, 171 kg and 173-kg snatches—always looking in command as he crisply executed his lifts. Bulgaria's Ivan Markov, seen as a podium favorite in this category, got the silver medal in the snatch with 170 kg, and Gabriel Sincraian (Romania) was in for the bronze medal with 166 kg.

Aukhadov's dominance was clear in the clean and jerk, where he once again made three good lifts: 205 kg, 210 kg and 215 kg, and also once again, the lifts were never in doubt. He has switched from a split jerk to a squat jerk, and each was executed with apparent power to spare. Markov was the silver medalist in the clean and jerk with 205 kg, edging Rauli Tsirekidze (Georgia) on body weight.

Watch for Aukhadov to challenge, and most likely break, the clean and jerk world record in the near future.


###


Visit the IronMind Forum: talk strength, discuss this story. Strongman, grip, Highland Games, Olympic lifting, stones and more.

You can also follow IronMind on Twitter.