Aneta Florczyk Wins the London Invitational Strongwoman Contest
This past weekend's London Invitational Strongwoman contest was won by Aneta Florczyk.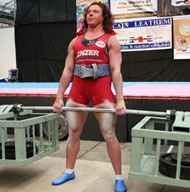 Aneta Florczyk on the Cage Deadlift, one of the events she won on her way to the overall victory at the London Invitational Strongwoman contest. IronMind® | Photo courtesy of Colin Anderson.
Contest organizer Colin Anderson said, "We believe that Aneta's result on the log lift, 100 kg, is the first time this weight has been achieved by a woman in competition. We have checked previous results and been unable to find a bigger lift. Do you, or any of your readers, know differently?"

Aneta Florczyk is a former World's Strongest Woman winner.

Final overall places and points were:

1. Aneta Florczyk 23 points
2. Anna Rosen 19
3. Gemma Taylor 16
4. Anki Oberg 11.5
5. Hanne Bingle 4.5

We don't know of a heavier log lift by a woman in competition, but if anyone else does, please let let us know: sales@ironmind.com.