Andy Thomas Certifies on the IronMind® Red Nail™
Saying that he's only "been bending seriously since January 2010," Andy Thomas must have something up his sleeves—like a a pair of super strong lower arms—because he just bent the IronMind® Red Nail™ under official conditions.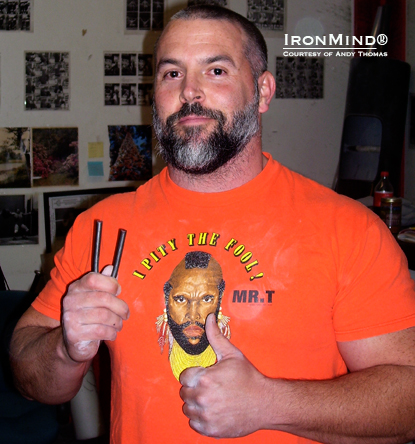 Andy Thomas is 42 years old, stands 5' 10" tall, weighs 215 lbs. and the IronMind Red Nail is like putty in his hands. IronMind® | Courtesy of Andy Thomas.


Andy is a physical therapist and he told IronMind, "I bend anywhere from 3-7 days a week, and train other areas of grip as well. I am also interested in certing the COC #3 gripper in the future."

Andy said, "Thanks to my wife Suzie and my daughter Lucy for always supporting me and putting up with my loud training sessions in our garage!," and IronMind adds, "Many thanks!" to famed women's weightlifting advocate and coach John Coffee, for serving as Andy's official referee. Nice work, everyone!

Congratulations, Andy—it's official and your name has been added to the IronMind Red Nail Roster™.

###


Want to talk strength? Join the IronMind Forum!

You can also follow IronMind on Twitter.