Andy Cairney: Top-Drawer Performance on Atlas Stones, Inver Stone
About a week ago, Kenneth Nowicki told IronMind®, "My training partner Andy Cairney shouldered a 195 kg Atlas stone and I wanted to check to see if you had any idea if it was a new WR [world record] or not."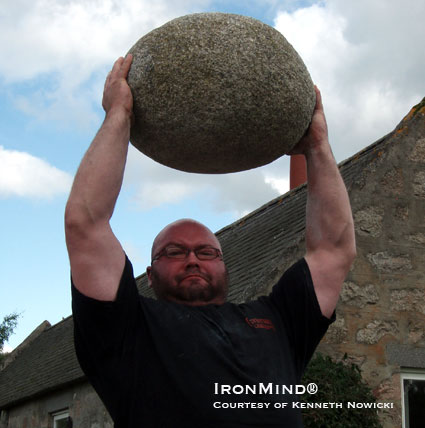 Andy Cairney puts the Inver Stone overhead in commanding style. IronMind® | Photo courtesy of Kenneth Nowicki.


Well, we have checked and at least provisionally, IronMind® would have to say that it is, but if anyone knows of a bigger number, please let me know: rjstrossen@ironmind.com.

Kenneth added that besides the sheer magnitude of this lift, "It also shows what good shape Andy's in for UK's Strongest Man this year."

Not content to stop there, a couple of days ago, Andy Cairney was back on it, this time with the Inver Stone.

"Just wanted to let you know that Andy became the 4th man and 3rd Scot to press the Inver Stone and IMO it's the best lockout yet as there's no backward lean." Take a look at this video and see if you don't agree that Andy delivers a dominating performance.