Andrzej Matusiak Memorial Tournament
The Andrzej Matusiak Memorial Tournament in Ciechanow, Poland this weekend produced some nice lifting, including a most unusual six-for-six performance by Ramunas Visniauskas (Lithuania), a lifter better known for big misses and melodramatic celebrations than for consistently posting good lifts.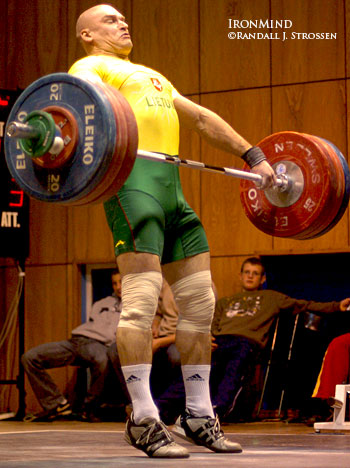 Usually more of a showman than a consistet lifter, Ramunas Visniauskas (Lithuania) was rock solid in Ciechanow, Poland this weekend, going six-for-six and ending the day with 172/215. IronMind® | Randall J. Strossen, Ph.D. photo.
The contest used a team format, with each team comprised of two men and one woman, and in addition to local clubs, teams from France, Lithuania and Latvia participated. The field of Polish lifters included top women's lifter Dominika Misterska, who did 85/105.

Arsen Kasabiev (Georgia), in his first real lifting since the World Weightlifting Championships in September, snatched 155 and 160, before having a fairly close miss with 167. In the clean and jerk, Kasabiev really attacked the bar, and made three nice lifts: 195, 205 and 210. Kasabiev's performance was especially impressive because he was coming off top lifts of 150/190 since the world championships.