Andrew Hobson and The Art of Throwing
Not everyone puts artists and athletes in the same group, but in the case of Highland Games competitor and painter Andrew Hobson, he's at home in both worlds.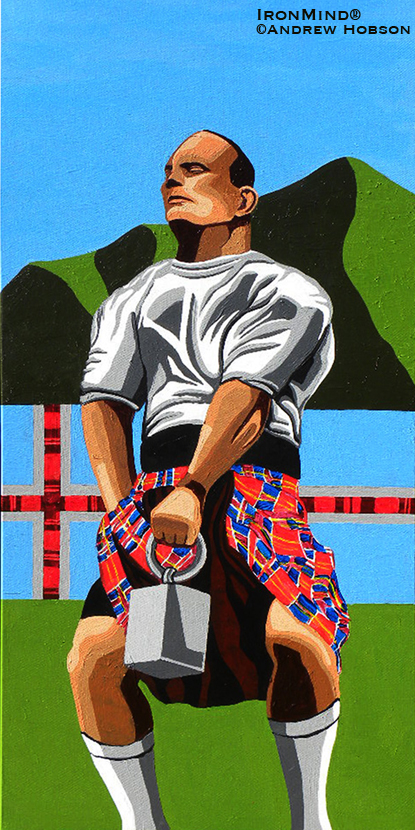 Andrew Hobson's acrylic painting Viking Warrior is based on Icelandic strongman legend Jon Pall Sigmarsson. IronMind® | Artwork courtesy of Andrew Hobson.


The Art of Throwing
by Francis Brebner

There is more than meets the eye with Andrew Hobson, more than just being a force to be reckoned with on the Highland Games circuit.

Andrew first started competing in the Highland Games seriously at the end of 2002, and turned pro in the summer of 2005. He is one of the country's top ranking professionals, turning out some world class throws in the weights for distance so far this season. But that is just one of his many talents, as the other is oil and acrylic painting.

Andrew a member of the native American Navajo tribe from his mother's side of the family, and his father is Irish, coming from County Armagh.

Andrew in his fifth year teaching art in Phoenix, Arizona and truly has a gift for painting. I have seen Andrew's paintings firsthand, and his native art paintings are very much in demand internationally.

Just recently, Andrew has done in his own adaptation painting of the legendary strongman Jon Pall Sigmarsson which is called The Viking Warrior - Weight Over the Bar. This painting was done on in acrylic on a 2' x 4' canvas.
For more information on Andrew Hobson's art, please visit his website.