America's Strongest Man: Winner Qualifies for World's Strongest Man
Philip Pfister is rocking the boat again: he's the man from West Virginia who believed he could win the World's Strongest Man contest, and he did just that, and he also believed that he could organize a major strongman contest - America's Strongest Man - and run it as a drug-tested event, so guess what's coming up this summer?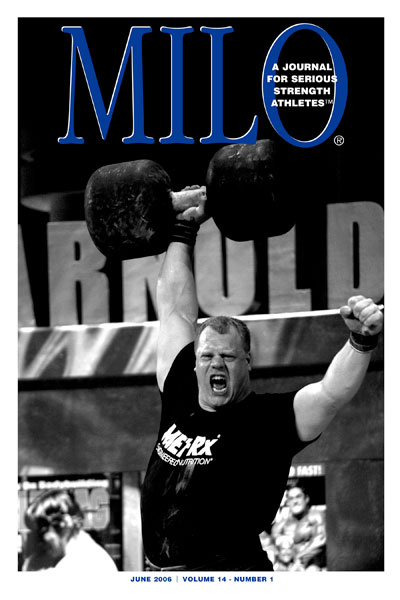 Unless you've been under a rock the last couple of years, you know what Phil Pfister did at the 2006 Arnold and then at the 2006 World's Strongest Man contest. Next up from Mr. Pfister is a strongman contest quite unlike anything ever seen in the U.S., or anywhere else for that matter: America's Strongest Man will pay US$10,000 to the winner, give him an invitation to the World's Strongest Man contest and, just to really get your attention, it's drug tested, open to anyone, and boasts ESPN2 coverage! Phil Pfister is making strongman history, again. IronMind® | Randall J. Strossen photo.

Mark your calendar for July 4 - 6 and plan to be in Charleston, West Virginia, because Phil Pfister is going to be making strongman history again when America's Strongest Productions LLC, IMG and Chesapeake Energy Corporation join forces to present the 2008 America's Strongest Man contest. This is a drug-tested competition, and instead of giving the winner a rubber check or a card with the value of Monopoly money, it actually pays US$10,000 to the winner and also gives him an invitation to the 2008 World's Strongest Man contest. And here's an added kicker: "This is an open contest for the competitors who wish to compete with the best strongmen in America."

Here's how it works.

Friday is the "open qualifying competition: any American athlete who is healthy and successfully completes the entry process may show up and compete. As part of completing an entry package, a $250 entry fee is required. All athletes will be drug tested. Prize money will be paid after drug screen results. Athlete will forfeit prize money if athlete flunks drug test. Testing will be conducted by USAPL to USAPL anti-doping standards."

"The top ten athletes from Friday then compete in Saturday and Sunday's televised finals," which will be broadcast by ESPN2 on July 13. Total prize money is US$50,000 - it starts at $10,000 for first place and goes down to $1,000 for tenth place."

"The events for the contest are very subject to change and are based on the needs of our sponsors, etc. Here is a tentative list.

Friday: Log Clean and Press for reps, Conan's Wheel, Farmer's Walk, Truck Pull

Saturday: Keg Throw, Atlas Stones, Car Walk

Sunday: Hand Over Hand Rope Pull, Pressing Medley, Deadlift for Reps"

The official statement continued, "More information soon to follow, including entry form, event list, hotel information, etc. Watch IronMind's News column for details."

Stay tuned - this sounds very, very big!