America's Strongest Man® - Start List
Asked about the upcoming American Strongman Corporation (ASC) America's Strongest Man® (ASM) contest, ASC president Dione Wessels said, "I am simply HAPPY!!" And for very good reason.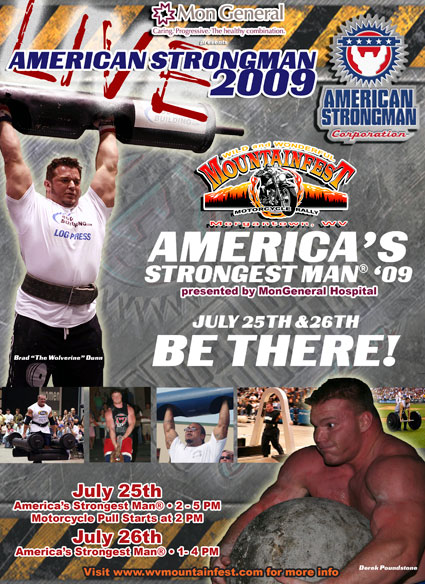 Tough times don't stop tough people: ASC is hosting its biggest ASM contest since 2004, ASC president Dione Wessels told IronMind®. IronMind® | Artwork courtesy of Dione Wessels/ASC.

"Why? Because this is our largest ASM since 2004," which is especially meaningful given the tough economic climate: "Sponsors have been very hard to get this year, but we still managed to get $10,000.00 in payout . . . and the city of Morgantown has been awesome to work with and extremely accommodating."

"I think this show is one of the first breaks in the many obstacles we have had to face in the last four years and more recently in the last two years. It also shows some unity for the sport as we are willing to work with any organization to further the sport in America and throughout the world."

And just who's thrown in hat into ring? Here's the official start list: David Hansen, Matt Wanat, Brad Dunn, Rob Meulenberg, Van Hatfield, Tamás Malatinszki, Carl Foemmel, John Conner, Warrick Brant, Travis Ortmayer, Marshall White, Scott Weech, Brian Turner, Chad Coy, Nick Courtad, Jason Davidson, Pete Konradt, Andy Vincent, Matt Dawson, Kevin Nee, and Derek Poundstone.
For full details, please check the official ASC website.