All Strength of the Globe
Olena Kiba told IronMind that "All strength of the Globe" within the International Avia-Space show in Kiev "AVIASVIT XXI" for September 26–30.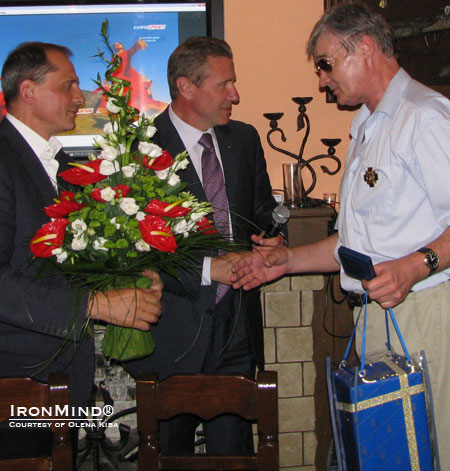 Vladimir Kiba (right) turned 60 last week and the famed pole vaulter and president of the Ukrainian Olympic Committee Sergey Bubka (center) was among the guests enjoying themselves and honoring Kiba. On the left is Oleksandr Yakovlev (former triple jumper), another friend of the Kibas and the head of finance for the Ukrainian Olympic Committee. IronMind® | Photo courtesy of Olena Kiba.


"We plan to pull an [Antonov AN-225] Mriya [the world's largest plane] and invite for this Guinness Record: 4-6 best heavies, 2 best 105 kg, 2 best women.... We did it once, but no women and 105 kg men," Kiba said.

Incidentally, the other half of team Kiba— Olena's husband, Vladimir,—turned 60 last week and the celebration included a family party plus none other than pole vault legend, Olympic gold medalist and president of the Ukraine Olympic Committee Sergey Bubka.

Vladimir Kiba was a champion high jumper and top coach in the sport who later turned his attention to strongman, where he has helped to develop competitors, organize contests and produce TV shows.

Asked about Vladimir Kiba's role in strongman, SCL cofounder Marcel Mostert told IronMind, "He brought the strongman sport into his country, and traint a lot of champions, in athletics and strongman. Vasyl Virastyuk is the most well know example, but also Konstantin Ilin and World Strongest Woman, Nina Geria . . . they all came further into the strongman sport thanks to him.

"And we, SCL, are thankful for the cooperation for so many years, where Vladimir always kept his word to us and others. He's a great man in strongman sport in the Ukraine," said Mostert.

Congratulations, Vladimir—here's to the first 60!

###

The IronMind Forum: discuss this article, talk strength, get help with your training.

You can also follow IronMind on Twitter.