All-American Strongman, Odd Haugen and FitExpo Ramp Up
Look at who's won the All-American Strongman Challenge in the last few years - Travis Ortmayer in 2006, Karl Gillingham in 2007, Travis Ortmayer in 2008, Brian Shaw in 2009 - and you'll be impressed with the caliber of its strongman competitors.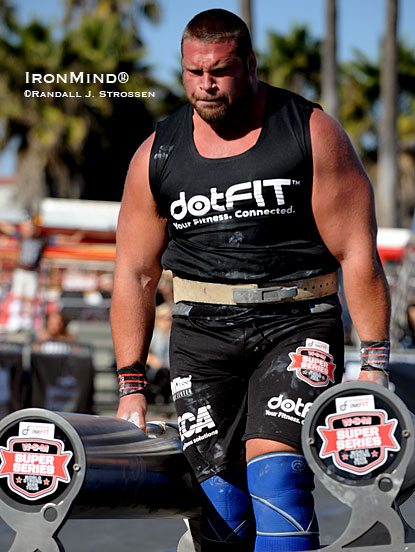 The very popular British strongman Terry Hollands has expressed an interest in coming to the FitExpo for the All-American Strongman Challenge, Odd Haugen told IronMind today. IronMind® | Randall J. Strossen photo.


Instead of resting on their laurels, though, Odd Haugen and FitExpo are up ramping up for 2010.

"We'd love to get some top international strongman competitors," Odd Haugen told IronMind®. "Maybe a couple of top Canadians and Europeans."

And with the winner getting a guaranteed invitation to both the 2010 Arnold strongman contest and the 2010 Mohegan Sun Super Series Grand Prix, this is an unprecedented opportunity to prove that you can hang with the big boys.

There is no old-boy system at work here, with insiders working their magic to win invitations for the lucky few. Instead, Odd Haugen has said that this contest is open to any pro strongman, so a walk-on could walk off with an invitation to strongman contests just one level below the king of the hill, World's Strongest Man.

Talking about this year's All-American Strongman Challenge, IronMind® asked Odd Haugen about why the crucifix was changed to the deadlift hold and Haugen explained that because the winner is going to the Arnold, which is known for being heavy, it would be beneficial to make this switch in the interest of better mirroring the sort of demands served up in Columbus, Ohio.

This event will be held on the Giant Frame. "300 kg on that is not easy to lift," Haugen told IronMind®, "so with the 400 kg we will be using, it's a tough lift."

"Can you lift it?," yours truly asked Haugen.

"I can walk with it," Haugen replied.

Which is exactly why you want to keep training and why you also want to mark your calendars for the FitExpo.