In this month's "From the Quarry," Steve Jeck reminds each of us of what is probably the most central of all training questions.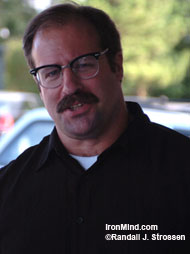 Yuri, Ski and Steve: When Randall Strossen noticed Steve Jeck's new glasses down at Sorinex over the weekend, Strossen offered a compliment and Steve replied, "Every good lifter from the 50s and 60s wore glasses like this." Steve's right, and now we can say that the man who put the Inver Stone on the map and who wrote Of Stones and Strength and The Stone Lifter, has joined this illustrious group, and we think Steve makes the glasses look pretty sharp. IronMind® | Randall J. Strossen, Ph.D. photo.

IronMind® commonly receives questions like, "What book do you recommend" to which we have to ask, "What's your goal?"

Steve Jeck highlights this vital process, so be sure to stop by and see what Steve has just mined "From the Quarry."