Alexey Pritula Certifies on the Captains of Crush No. 3 Gripper
"I live in Moscow, graduated from college as an accountant," Alexey Pritula told IronMind, but don't mistake him for a limp wristed office worker: Alexey has just been certified on the Captains of Crush (CoC) No. 3 gripper.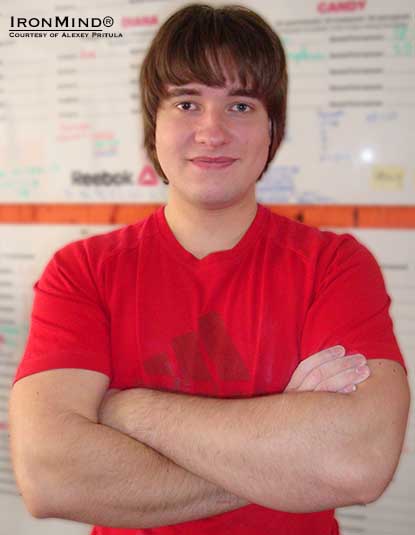 Welcome, Alexey Pritula, the latest man to certify on the Captains of Crush No. 3 gripper. "Alexey succeeded in closing Captain of Crush #3 gripper under official cert conditions with BOTH hands. After closing it with left hand (his off-hand) he squeezed it also with right hand, which was operated in 2011 (got sewed back the pinky tendon after avulsion)," official referee Ivan Beritashvili reported to IronMind. IronMind® | Photo courtesy of Alexey Pritula.


"The newest member of the elite group works as "as a cutting tool sharpening foreman" and said, "Since college I was fond of training grippers; it always was rubber rings and they always were not hard enough for me. In beginning of 2010, I learned of CoC grippers, my first was CoC#2. I was already able to close it right out from the package.

"Several months after I found out 'Iron Grip' on-line community [in Russia], where I met many talented athletes, who had same interests with me.

"In the end of 2010 I was able to close CoC#3 from credit card set, but accidentally tore off pinky tendon on right hand. I got operated and till mid 2012 I severely trained my left hand. So after rehabilitation my right and left hand strength is almost equal.

"My future goal is to collect all IM certs!!," Alexey told IronMind.

Congratulations, Alexey—your name has been added to the official Captains of Crush No. 3 Gripper certification list and we're looking forward to adding it to more.

IronMind would like to thank Ivan Beritashvili (CoC3 '11) for refereeing Alexey's official attempt.

### 



The IronMind Forum: discuss this article, talk strength, get help with your training.

You can also follow IronMind on Twitter.