Alexandr Ivanov wins the 94s at the World Weightlifting Championships
Antalya, Turkey – With no Ilya Ilin, Szymon Kolecki, Nizami Pashaev or Khadjimourad Akkaev, a notable number of recent top performers were absent from this class, which promised to be a battle of the Ivanovs: Alexander (Russia) and Artem (Ukraine).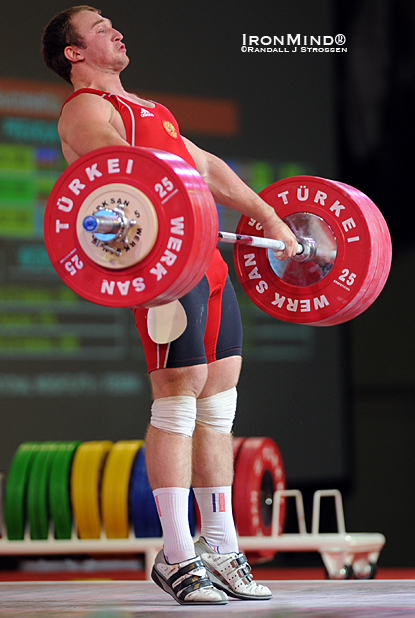 94-kg competitor Alexander Ivanov (Russia) cranks on this 185-kg snatch en route to the gold medals in the snatch and in the total at the 2010 World Weightlifting Championships. IronMind® | Randall J. Strossen photo.



With two lifters opening at 180 kg in the snatch, some big lifts appeared to be on their way—even an indication of a possible assault on the world record. Alexander Ivanov worked though 175, 180 and 185 kg in the snatch; defending world champion Vladimir Sedov (Kazakhstan) made 180, but then missed 185 and 187, establishing a pattern that he would carry over to the clean and jerk. Artem Ivanov made 180 and 185, before calling for 189 in an attempt to break the longstanding world record held by Akakios Kakiasvilis. He got under the bar, was fighting to control it as he stood up, but when he was about three-quarters of the way back up, he lost it behind—clearly unhappy about the close miss. Having both snatched 185 kg, the two Ivanovs were, well, even on best lifts, but since Alexander Ivanov was lighter, he won the gold medal in the snatch and went into the clean an jerk with the lead over Artem Ivanov.

Clean and jerks were not expected to be at the same level as the snatches had been, and they were not: Veteran Valeriu Calencea (Romania) landed the gold medal with 220 kg. Alexander Ivanov lost a lot of ground on the leaders when he only cleaned and jerked 217 kg, a weight he got to in big jumps from his opener of 205 kg. Alexander Ivanov ended up with 218 kg, edging Andrey Demanov (Russia) on body weight for the silver in the jerk—a lift that also gave him the gold medal on the total.

###


Want to talk strength? Join the IronMind Forum!

You can also follow IronMind on Twitter.