Aleksandr Asinowski Certifies on the Captains of Crush No. 3 Gripper
The famous Russian A1 armwrestling tournament included some world class performances in the grip strength events that were included in the program, not the least of which was Aleksandr Asinowski officially closing the Captains of Crush (CoC) No. 3 gripper, leading to his certification today.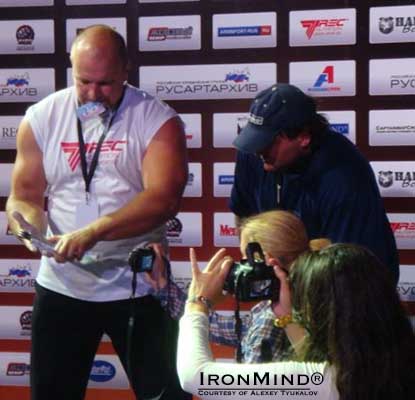 Talk about being on the spot: with referee Alexey Tyukalov keeping a close eye on the attempt, Aleksandr Asinowski squared off with the Captains of Crush No. 3 gripper while two cameras captured the action at close range. IronMind® | Courtesy of Alexey Tyukalov.


Asinowski is 35 years old and weighs 109 kg (about 240 lb.) at a height of 180 cm (about 5' 11"), and said that he has been training with Captains of Crush grippers for three years, closed the CoC No. 2 on his first attempt, and that he trains on them twice a week.

A regular competitor in grip contests such as David Horne's, and coached by Ivan Beritashvili (CoC-3, '11), Aleksandr Asinowski has gotten immersed in grip strength: he successfully completed the Crushed-To-Dust! Challenge earlier this year and he said that his plans include mastering the CoC No. 3.5 gripper.

Alexey Tyukalov, who served as the referee on Aleksandr Asinowksi's official attempt, describes Asinowski as "experienced strongman," and said of his official attempt, "He made it with confidence and easy."

IronMind would like to thank Alexey Tyukalov for serving as the referee, and to Aleksandr Asinowski we say, "Congratulations—it's official: you have just been certified and your name added to the official Captains of Crush No. 3 gripper certification list."

#

Want to talk strength? Join the IronMind Forum:

You can also follow IronMind on Twitter and on Facebook.