Aldo Alberico Certifies on the IronMind Red Nail
Aldo Alberico has added to his strength and conditioning credits by becoming the first Italian certified as officially bending the IronMind Red Nail, a benchmark short steel bend.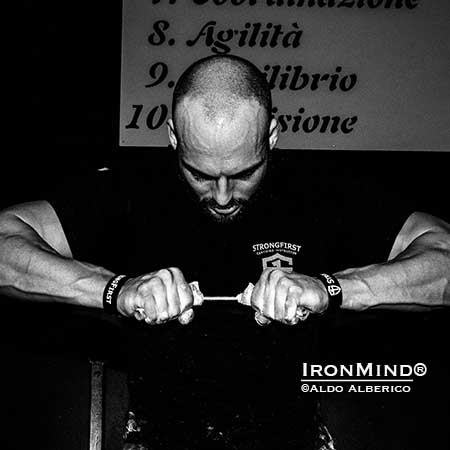 5' 10" tall (178 cm) and 187 lb. (85 kg) Aldo Alberico has become the first man in Italy to officially bend the IronMind Red Nail, a world standard for short steel bends. IronMind® | Aldo Alberico photo


The 35-year old gym owner (Palextra and CrossFit Lugo) told IronMind, "My path has deep roots in sport. I started when I was a child with swimming, tennis, basketball and baseball and finally combat sports like judo, wrestling and boxing. I am a Certified Personal Trainer, Strength Trainer and CrossFit Trainer. I am a StrongFirst Gyria Liv2, Barbell and Bodyweight, Primal Move Liv 2 and Flexible Steel Certificated Instructor. On 31/05/2013 I completed the Strong First Beast Tamer Challenge in front of a jury of excellence: Pavel Tsatsouline and Dott. M. Hartle.


"I train myself 6 days out of 7 with intensity obviously different with a day off every now and then and I do this because I love working out and my goal is to become stronger every day. Usually bend 4 days a week immediately after my strength workout. I tried several schemes over the months, but what brought me more results has been a high enough frequency with only 1-3 bends for a session. Only when the nail becomes easy, step up to a higher level. In addition to original material from IronMind, I used bolts from the hardware store for the transition," said Alberico.

IronMind would like to thank Dario Basile for refereeing on Aldo Alberico's attempt to bend an IronMind Red Nail under official conditions—a challenge that Alberico met, and so his name has been added to the Red Nail Roster.

###



Want to talk strength? Join the IronMind Forum.

You can also follow IronMind on Twitter and on Facebook.