Alan Barch Jr. Certifies on the Captains of Crush No. 3.5 Gripper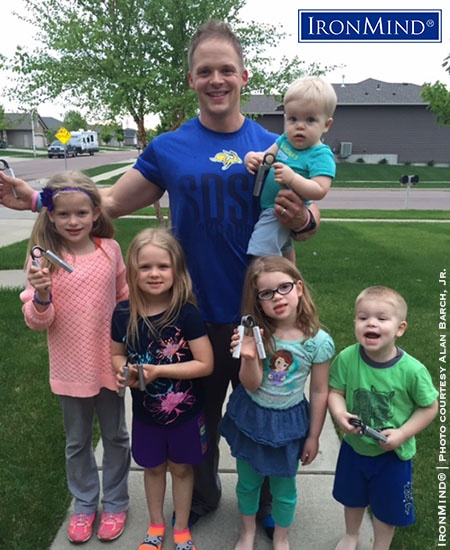 Three years ago, Alan Barch Jr. certified on the Captains of Crush No. 3 gripper and now he's taken the next big step up the ladder: he has just certified on the Captains of Crush No. 3.5 gripper.


Explaining how he got started, Alan Barch Jr. told IronMind, "A good friend of mine had the No. 1 and No. 2 [Captains of Crush] grippers. He brought the No. 2 for me [to try] and I was unable to close it.  The No. 1.5 was the first gripper I ever felt the handles touch with."

"I train grip about two times per week.  Rolling Thunder was a huge part of my grip training because I always felt that I got a decent carry over from it to the grippers.  I had back surgery just over a year ago and haven't been able to use Rolling Thunder in that time, so I had to get more creative.  

"With grippers I always focus on quality reps.  I like to warm up with general lifting and raise my core temperature before grabbing the first gripper.  I do the grippers between heavy sets of bench or weighted chins or squats because I feel that it potentiates my nervous system and best prepares me for my grip workout.  

"I rarely do partials and no matter what gripper I use I focus on speed!  6 sets of 2 with a reset at max speed is something I routinely use.  I want as many great reps in a workout as possible so I rarely do rep outs.

"I'm a stay at home dad with five kids so I use my hands every day to braid hair, hold kids, and change more diapers than a person can count.  I am also a huge video game player.  I love that I can still feed my competitive drive through playing video games.  My main hobby is lifting weights and I cant' stress enough how better grip strength helps with virtually every lift that I do.  So on a given day I have to go from working with the Captains of Crush No. 3.5 gripper to playing Barbies or making pony tails!," said Barch, coming from a man who "can typically rep out the [CoC] No. 3.5 for a couple of credit card reps in a row."



"I am a stay at home dad with 5 kids.  I am a former sprinter, and vertical jump specialist.  I love video games and above all spending time with my wife and kids.  my family is what drives me, motivates me and inspires me.  I have always competed against myself in virtually everything and so the grippers were a natural fit for me. They are the epitome of what goal setting is all about.  

"I love setting goals, establishing a game plan to get to my goals, and ultimately end up changing them as road blocks constantly occur.  I love that the grippers are a tangible object that require very little time to set up, where I can simply see if I have success or fail.  



"The grippers embody what lofty worthwhile goals are all about, which is to fail hundreds or thousands of times on the same gripper, each time full expecting it to close, and finally after many failed attempts, going back to the drawing board, and rethinking  training techniques, and finally closing it.   Self belief is paramount in any worthwhile goal and the grippers are no different.  And just when you get to where you thought you wanted to be, you realize there is always another gripper waiting to be closed," said Barch.



Congratulations, Alan: goal accomplished! 

IronMind would like to thank Mark Viehweg for refereeing Alan Barch Jr.'s official attempt to close the Captains of Crush No. 3.5 gripper—we appreciate your help.

  

                                               ###


You can also follow IronMind on Twitter and on Facebook.                        



Want to talk strength?  Join the IronMind Forum.