Akos Nagy Wins Giants Live–Hungary
"Akos Nagy won an emotionally charged Giants Live contest yesterday," Colin Bryce reported to IronMind as top strongman competitors vie for invitations to this year's World's Strongest Man contest via its official qualifying tour.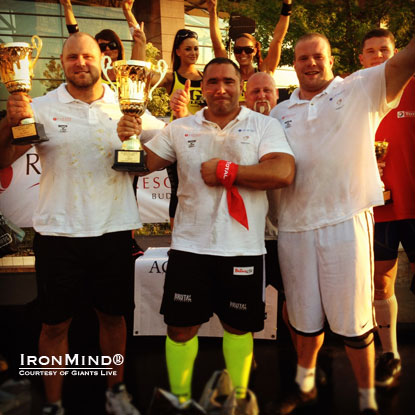 Because we are talking Giants Live, this isn't just the podium of a major strongman contest: landing a top-three place means you've earned an invitation to the World's Strongest Man contest. (Left to right) Congratulations to Josh Thigpen, Akos Nagy and Jack MacIntosh. IronMind® | Courtesy of Giants Live.


"The 1997 Junior World Champion in weightlifting has finally arrived in strongman and he did it with a bang!

"In a phenomenal display of all-round strength, Akos won the whole contest and in doing so got an invite to the 2012 World's Strongest Man (WSM) contest. The Hungarian crowd at Aquaworld near Budapest were ecstatic with the home win and cheered his success all day.

"Coming in second was a fully recovered Jack MacIntosh who has struggled to get over hamstring problems recently. The young Brit who was so impressive at WSM last year will have a chance to compete there again.

"In third place was Josh Thigpen of the USA. The Texan looked on the form of his life through most of the show. However, a biceps injury near the end slowed up his chances of winning the whole contest. Luckily it was not too serious and he completed the event.

"Giants Live moves on to Leeds next weekend for its biggest show of the year—Europe's Strongest Man. The line up there now includes Ervin Katona and Ed Hall after Mark Felix and Stefan Solvi Petursson have dropped out injured. Savickas, Shahlaei, Lalas and Hollands are just some of the other names coming. Please see http://www.europestrongestman.com/ for more details on that."

###

The IronMind Forum: discuss this article, talk strength, get help with your training.

You can also follow IronMind on Twitter.