Akkaev Khadzhimurat: 425-kg Total at the Europeans
Kazan, Russia—It promised to be another Russia versus Russian matchup in the men's 105-kg class at the European Weightlifting Championships, but when Roman Konstantinov missed 180 kg three times in the snatch, it was all Khadzhimurat Akkaev.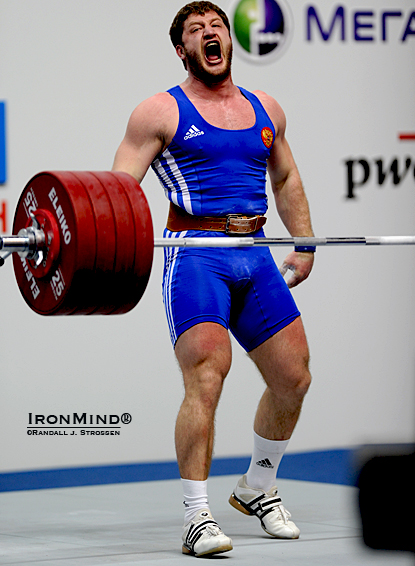 Roaring his approval, Khadzhimurat Akkaev (Russia) finished his six-for-six night with this 230-kg clean and jerk. IronMind® | Randall J. Strossen photo.


After Konstantinov had bombed out, Akkaev walked through 185 kg, 190 kg and 195 kg, winning the gold medal in the snatch by a 12-kg margin.

Akkaev's dominance continued in the clean and jerk, as he posted successes with 220 kg, 225 kg and 230 kg, for a 13-kg edge over silver medalist in the jerk Gia Machavariani (Georgia).

The Russian fans showed showed strong support for their athletes and among the past stars filling the hall were Anatoli Pisarenko, Yuri Zakharevich and Alexander Kurlovich, not to mention Russian coach David Rigert.

###

IronMind Forum: talk strength, discuss this story. Strongman, grip, Highland Games, Olympic lifting, stones and more.

You can also follow IronMind on Twitter.