After the Arnold, Chicago is Ready to Welcome Matthias Steiner
After the Arnold Sports Festival, where they are starring in the IronMind® Invitational, the German men's Olympic weightlifting team is headed to Chicago for a few days, before returning home.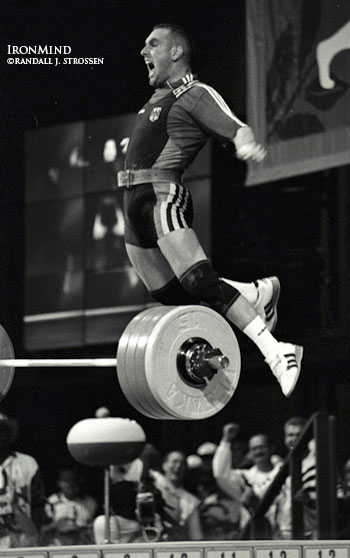 One of the weightlifting highlights from the 1996 Olympics was the Pyrros Dimas - Marc Huster matchup, and when Huster broke the world record in the clean and jerk, he showed us that besides lifting huge weights, he could fly. Marc Huster is a member of the German Weightlifting Federation delegation that is first coming to the Arnold Sports Festival for the IronMind® Invitational and then is visiting Chicago. IronMind® | Randall J. Strossen photo.


Chicago has a lot going for it and the Olympic sport of weightlifting is part of the picture. Whether you look back at the city's deep roots in the sport or peer into its future - which includes its status as a 2016 Olympic Candidate City - Chicago offers the perfect setting for welcoming the German men's Olympic weightlifting team.

Mike Gattone was tapped to be the liaison for this visit by the German Weightlifting Federation's elite delegation - a group that includes gold medalist Matthias Steiner; Germany's top weightlifting coach, Frank Mantek; and a former world champion and a world record-holder in the sport, Marc Huster.

Currently working as the high performance and coaching education director for USA Weightlifting, Gattone has a standout background that includes serving as weightlifting competition director at the 1996 Olympic Games and later working as the assistant strength and conditioning coach for the Chicago Bulls.

"We are fortunate to have someone with Mike Gattone's track record and commitment to weightlifting on the ground and ready to run in Chicago," said Randall Strossen, who made the introduction, asking Gattone if he could spearhead the visit by the German weightlifting delegation. Gattone agreed and he is arranging training sessions and a dinner honoring the guests, as well as a series of meetings and appearances around Chicago.

"Later this year, Mike Gattone is helping to organize the 2009 Pan American Weightlifting Championships in Chicago, and he is also working to start a grassroots weightlifting program in the city in conjunction with World Sport Chicago," said Strossen, who has known Gattone since the years leading up to the Atlanta Olympics.

"Following their appearance in the IronMind® Invitational at the Arnold Sports Festival (in Columbus, Ohio), the German weightlifting delegation expressed an interest in visiting Chicago," Strossen said. "Talk about a perfect opportunity for everyone - Chicago will embrace the German team and our distinguished guests will see why people from around the world love this city."