Adam Glass Certifies on the No. 3 Captains of Crush® Gripper
Congratulations to Adam Glass, who has just been certified on the No. 3 Captains of Crush® Gripper; Adam had told IronMind, he was eager "to join the elite with this official No. 3 close," and he's done just that.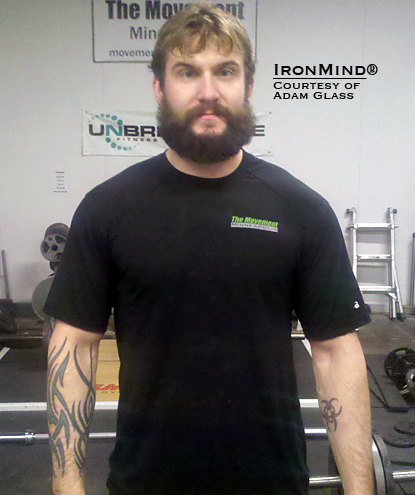 Adam Glass told IronMind that certifying on the Captains of Crush No. 3 gripper was his "#1 goal for 2010." Congratulations, Adam—you've succeeded! IronMind® | Courtesy of Adam Glass.


Adam Glass told IronMind thatw he has "been training grip seriously for the last 3-1/2 years," and among his accomplishments, Glass has bee certified on the IronMind Red Nail (2009), placed 11th in David Horne's World's Strongest Hands competition and owns the world record in the 2-inch vertical lift.

Glass is 27 years old, stands 6' 1" tall, weighs 205 lb. and is the head trainer for Movement Fitness LLC. Glass told IronMind that he "would like to expand the public's knowledge of grip [strength] and hand sport over the coming years and bring our sport out of the garages and on to the platforms across the globe."

"Adam . . . absolutely pinned the handles together on the second attempt, followed by an impressively long hold. It was a performance truly in spirit of the IronMind certifications," referee Matt Cannon reported.

With our thanks to Matt Cannon, IronMind would like to congratulate Adam Glass: your name has been added to the official certification list for the No. 3 Captains of Crush® grippers.


###


Want to comment on this article or just want to talk strength? Join the IronMind Forum!

You can also follow IronMind on Twitter.