Adam Darazs Wins the 2012 Hungarian Highland Games Strength Challenge
The 2012 Hungarian Highland Games Strength Challenge featured nine finalists and Francis Brebner told IronMind, "The big favorite going into this competition was Csaba Mészáros standing 6' 6" and a massive 161 kg."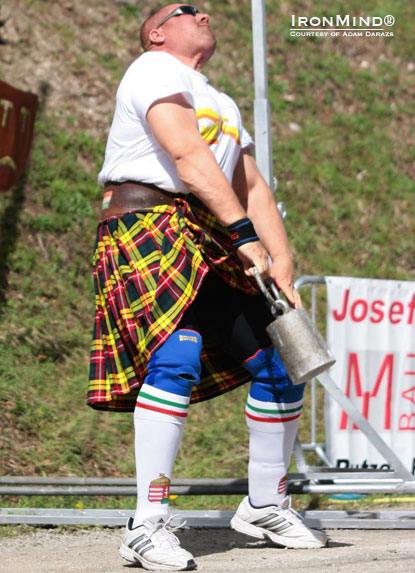 Overall winner of the 2012 Hungarian Highland Games Strength Challenge, Adam Darazs on the 56-lb. for height. IronMind® | Photo courtesy of Adam Darazs.


Mészáros won the 56-lb. weight for height, with a throw of 440 cm (about 14' 5"). Adam Darazs won the 22-lb. Braemar stone with a new Hungarian record of 11.31 meters (about 37' 1"). Tamás Saliga won the 105-kg Millstone, with two reps, and Tibor Kiss won the 260-kg Frame Carry as well as the caber and the final event, the Stones.

Here are the overall places:

1. Ádám Darázs
2. Tibor Kiss
3. Tamás Saliga
4. Balázs Adorján
5. Ádám Vinkler
6. Árpád Nagy
7. Csaba Mészáros (injured)
8. Zoltán Benkő
9. András Gadó

Francis Brebner asked Darazs about his overall performance: "I am very pleased to win this event for the seventh time; this was by far the heaviest and the hardest competition."

Looking toward the upcoming IHGF European Highland Games Strength Challenge, Darasz said, "I am ready for it; it should be a great competition with some of the biggest names in Europe competing. Hungarians love Highland Games and can't seem to get enough of it and it shows with the spectators."

###

The IronMind Forum: discuss this article, talk strength, get help with your training.

You can also follow IronMind on Twitter.