Abadjiev: Bulgarian Control Results
Fabled Bulgarian weightlifting coach Ivan Abadjiev told IronMind that he attended the team's control last Friday, giving us a preview of what we might expect at the upcoming European Weightlifting Championships.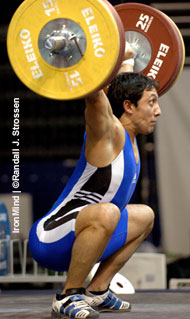 2000 Olympic silver medalist Georgi Markov (Bulgaria) sticks his 155-kg opening snatch at the 2005 World Weightlifting Championships (Doha, Qatar). IronMind® | Randall J. Strossen, Ph.D. photo.
Abadjiev, who is retired from active coaching responsibilities, said that the team will not be coming into the European Weightlifting Championships at peak levels, although it sounds as if lifting fans can expect some solid performances nonetheless. 77-kg competitor Georgi Markov, for example, snatched 155 kg and cleaned and jerked 200 kg in the control, Abadjiev said, and super heavyweight Velichko Cholakov snatched 195 kg and cleaned and jerked 235 kg.

'This was only training," explained Abadjiev, adding, "they might do five or ten kilos more in competition."