Aaron Neighbour Wins Highland Games World Championships
It was close fought, but Aaron Neighbour prevailed and he is the 2009 Highland Games World Champion.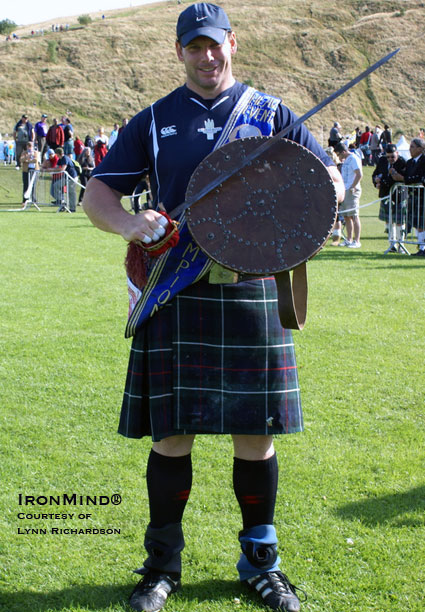 Sporting the champion's sash, shield and sword, Aaron Neighbour is the proud 2009 Highland Games World Champion. IronMind® | Photo courtesy of Lynn Richardson.


2009 IHGF World Highland Games Championships – Day Two

Reported by Francis Brebner

The second day of the IHGF World Championships started off with some drizzling showers in the early morning before the Games and during the opening event of the day, the 16-lb. open stone. Aaron Neighbour's huge put of 54' 2" took the win. In second was Pat Hellier of New Zealand, close behind with a worthy put of 53' 8", and in third Sean Betz at 51' 11-1/2". 
 

Going into the 56-lb. weight for distance, the weather started to clear up and with that, the Games arena filled up again with thousands of spectators. Larry Brock led the field all the way with the winning throw of 44' 4-1/2". Harrison Bailey pulled out a clutch throw of 43' 6" for second place, leaving Neighbour in third at 41' 11-1/2".
 

With only two events left, the points were very tight, with Neighbour in first position on 14 points, Brock in second on 17 and Betz in third on 21, making the 16-lb. hammer a very exciting event. Betz really dug deep and pulled out the winning throw of 137' 4-1/2" with Scotland's Craig Sinclair coming second with 135' 1/2" and Brock taking third with 131' 1- 3/4".
 

After the points were tallied, Brock and Neighbour were tied on 20 points and Betz sat on 23.
 The last scoring event, the 56-lb. weight over the bar, sorted out the final places. Neighbour finally cleared the height of 15' 9" for the win and the crown as the new IHGF World Highland Games champion. Tied for second place in the weight over bar were Betz and Hans Lolkema, who fought tooth and nail all the way, finally clearing the height of 15'.

The last event was the challenge caber, which was 22' long and 150-lb. It was New Zealand champion Pat Hellier who nailed a toss of 11:45 for the win, with Lolkema in second place with 11:15 and Canada's Greg Hadley in third with 11:00.
 All the athletes agreed that this was the best Games ever staged, a true sensation that captured the heart and spirit of all things traditional.


Final standings

1. Aaron Neighbour 21

2. Sean Betz 24
3. Larry Brock 27-1/2
4. Harrison Bailey 38-1/2
5. Greg Hadley 39-1/2
6. Hans Lolkema 45
7. Pat Hellier 45-1/2
8. Craig Sinclair 50-1/2