Aaron Neighbour Leads Highland Games World Championships
Edinburgh, Scotland - Proving them fit for royalty, the Highland Games World Championships today were graced by the presence of Their Royal Highnesses The Duke and Duchess of Rothesay (aka Prince Charles and his wife, Camilla).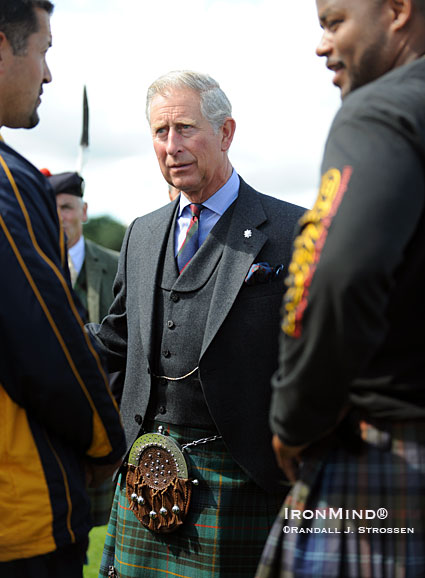 Prince Charles greeted the competitors in the Highland Games World Championships today - that's Pat Hellier to the left of His Royal Highness and Harrison Bailey III on the right. IronMind® | Randall J. Strossen photo.

A short walk from the center of Edinburgh (Scotland), Holyrood Park offers sweeping fields bordered by untouched crags replete with ruins - a pastoral Scottish setting - and to add the perfect touch, much of today was bathed in sunshine.

Sean Betz won the Braemar Stone, with Aaron Neighbour coming in second and Pat Hellier picking up third place. Next, Neighbour won the 28-lb. weight for distance, edging out Larry Brock. Brock maintained the pattern of the runner-up winning the next event by taking first in the caber, but Neighbour was three points ahead of him in the overall at this stage, with Sean Betz in third place, three points behind Brock.

Betz won the 22-lb. hammer, Brock was second, and Craig Sinclair third, and the first day of the 2009 Highland Games World Championships ended with things tight at the top:

Aaron Neighbour 10 points
Larry Brock 11
Sean Betz 13

The action resumes tomorrow.