Aaron Farley Certifies on the No. 3 Captains of Crush Gripper
Sure, he's 6' 3' tall, weighs 290 lb. and likes "to lift heavy weight and train Brazilian Jiu-Jitsu," but Aaron Farley has also just proven that he's got world-class grip strength as he just certified on the Captains of Crush® No. 3 gripper.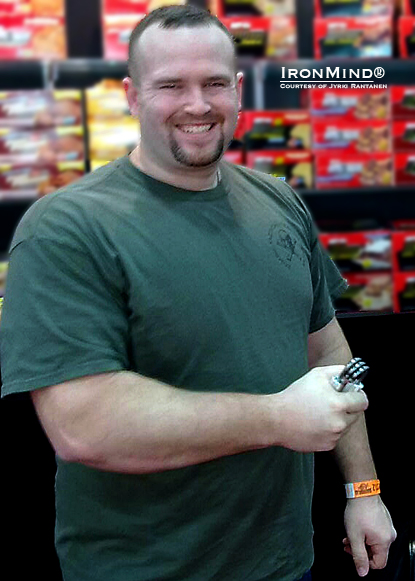 Aaron Farley certified on the Captains of Crush No. 3 gripper today, proving he's got world-class grip strength. IronMind® | Courtesy of Jyrki Rantanen.



"A good friend of mine purchased a [Captains of Crush gripper] #1 and 1.5 for me as a Christmas gift [in 2010]. I was able to close them both the day he gave them to me. My wife ordered me a #3 for Christmas in 2011 and I was able to fully close it the day it arrived in the mail," Farley explained to IronMind.

"I'm a Wayne County [West Virginia] Sheriff's Deputy so it is vital that I have formidable hand strength when dealing with subjects who become combative," Farley said, and for some reason we think he's never lost control of a subject once he got his hands on him.

IronMind would like to give a special thanks to Jyrki Rantanen for jumping through extra hoops as he agreed to take on the role of being Aaron's official referee. Rantanen, who is not a stranger to grip strength performances and competitions, told IronMind it was an "impressive close."

Congratulations, Aaron, your name has been added to the official certification list for the Captains of Crush No. 3 gripper.



###

The IronMind Forum: discuss this article, talk strength, get help with your training.

You can also follow IronMind on Twitter.