ASC: 2008 Tour, Flex Wheeler Classic
NAS, IFSA-USA and ASC president Dione Wessels has just released an announcement that ASC will be holding a contest at the Flex Wheeler Classic.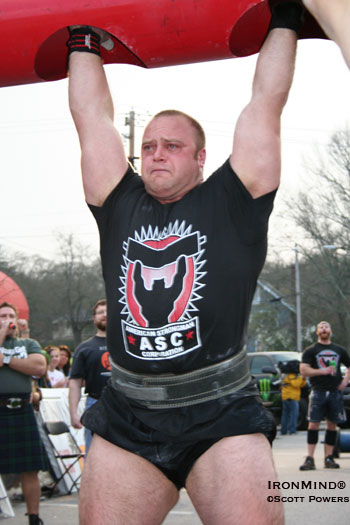 "Contracts with this group [for the Flex Wheeler Classic] were just signed," ASC president Dione Wessels told IronMind®, adding, "This is one of several things that are going on with American Strongman Corp. The photo is of New School ASC athlete Jason Kristal at the St. Patrick's Day ASC Qualifier in Columbia, SC on March 14th and 15th." IronMind® | Photo is courtesy of Scott Powers of Columbia Regional Sports Council.

"American Strongman is proud to announce a partnership with Team Flex Wheeler and the newest event during what ASC insiders are calling the Summer of American Power!'" according to Wessels' press release. Wessels is enthusiastic about the contest, which she said "will feature the 'American Strongman Record Breakers Classic' . . . The contest will feature three classic American Strongman disciplines with cash prizes awarded to record-breaking athletes in each category." According to this announcement, "all three disciplines will be standardized and thus new records will be set in each event during this inaugural contest."

ASC has also announced the next contest in its 2008 series, called the Splash Bash for the Troops, and it is scheduled for May 17 in Minneola, Florida.

ASC bills itself as being "the sole sanctioning body for Professional Strongman Contests in the United States," with the following explanation: "On November 9, 2004, American Pro Strongman's rebirth was completed. IFSA, the world governing body for professional strongman, selected long-time strongman competitor and promoter Dione Wessels as the representative for its interests in the United States." One of the distinguishing characteristics of IFSA strongman contests in the recent past was the development of standardized strongman events, and from the sound of things, this concept is being applied to Wessels' upcoming ASC contest at the Flex Wheeler Classic.