APL European Armlifting Championships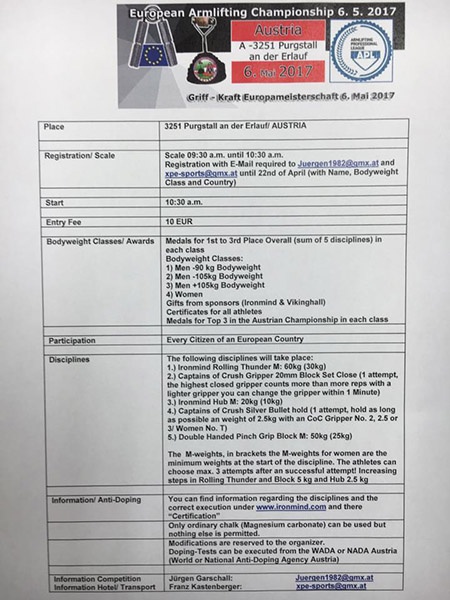 "I have great news, after talking with Dmitriy [Suhovarov] from APL: I am proud to announce again the official APL European Armlifting Championship on the 6th of May 2017 in Austria!," Juergen Garschall reported to IronMind.

 
"I want to thank you personally and IronMind for the great equipment that we use in our competitions and I invite all Armlifting athletes form all over Europe to compete at our championship!
 
"It will be the first Armlifting Championship in Austria with possible doping-tests, so I think it is the right way to make our sport more professional!
 
 "Last but not least I would like to invite you personally to attend this European Championship; it would be great to have you on site there!," said Garschall.

The 2017 APL European Armlifting Championships features the Rolling Thunder, Captains of Crush grippers, the CoC Silver Bullet and the IronMind Hub; four men's weight classes and one women's class will be included. For additional details, please contact Juergen Garschall or Franz Kastenberger.

                                  ###



You can also follow IronMind on Twitter and on Facebook.                        



Want to talk grip, strongman, weightlifting . . . everything strength? Visit the IronMind Forum.