Saddle Brook, New Jersey - Based on last night's dinner, AOBS is going strong, which seems perfectly appropriate for a group of people united in their passion for the iron game.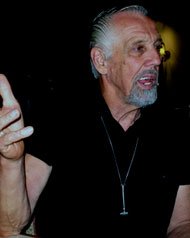 Slim "The Hammerman" Farman, always a central figure at the AOBS, edifies two of the distinguished guests last night: Svend Karlsen and Odd Haugen. IronMind® | Randall J. Strossen, Ph.D. photo.

As ever, the AOBS dinner was a mix of awards, performances, education and, most important, camaraderie.

A cornerstone of the AOBS, the collectors got things going on Saturday, as Mike Bondurant set the stage and Reuben Weaver shed some light on the Milo Barbell Company - Jackson Barbell Company intersection. Later, Don Reinhoudt held a seminar recapping his career highlights as a top powerlifter and World's Strongest Man competitor, and he explained the principles that guided his training.

Erik Vining (COC -03) presented Slim "The Hammerman" Farman an award which appropriately enough took the form of an impressive piece of scrollwork done by Erik. The Mighty Atom, Dennis Tinerino, Russ Knipp and Dick "Smitty" Smith were honored by the AOBS this year; Steve Schmidt and Dennis Rogers performed feats of strength, and the Greg Ernst family sang.

The recent growth trend enjoyed by the AOBS appeared to be continuing, as there seemed to be more people than ever in attendance.