Anyone who doubted the deadlifts Benedikt Magnusson recently said that he was going for should take a look at this picture.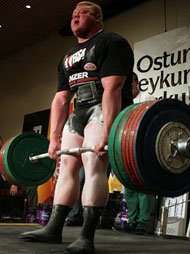 Benedikt Magnusson gives 425 kg a mighty ride at the Icelandic Powerlifting Championships yesterday. IronMind® | Photo by Johannes Eriksson, courtesy of Hjalti Arnason.

Going for the all-time deadlift record with this 425-kg pull, Benedikt Magnusson proves that he's a human forklift and that the record is living on borrowed time.