A Bare Essential of Olympic-Style Weightlifting: Jim Schmitz Explains Naked Bar Lifting
Rein in your imagination because when three-time USA Olympic weightlifting team coach Jim Schmitz says "naked bar lifting," he is talking about lifting just the bar—with no plates.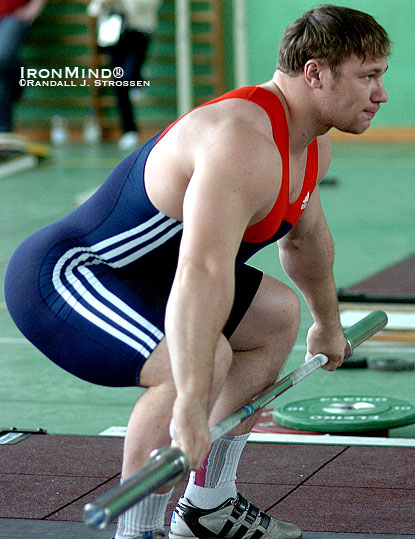 Think naked bar lifting is for weaklings and wimps? Virtually all top Olympic-style weightlifters, no matter how tough and strong, do plenty of naked bar training. This is Evgeniy Chigishev (Russia)—the man who cooly outsnatched Hossein Rezazadeh at the 2005 World Weightlifting Championships while Iranian fans showered him with boos, and who Eurosport weightlifting commentator David Goldstrom called "the moral victor" in the super heavyweight class at the 2008 Olympics, given that Chigishev was edged out of the gold medal by 1 kg in the total by a man (Matthias Steiner) who outweighed him by nearly 22 kg. All of these top supers do lots of naked bar training—you should too. IronMind® | Randall J. Strossen photo.


Ready for the bare facts? Follow the Training Articles menu on the IronMind® homepage to"Schmitz on the Lifts" or go directly to "Naked Bar Lifting" by Jim Schmitz.

Want to talk strength? Join the IronMind® Forum!

You can also follow IronMind® on Twitter.