85-kg Category at the European Weightlifting Championships: Armenia Finishes First and Second
Minsk–The story about the men's 85-kg category began before the competition started at the 2010 European Weightlifting Championships because neither of the host country's stars was entered, and Armenia had two top lifters ready to lock horns.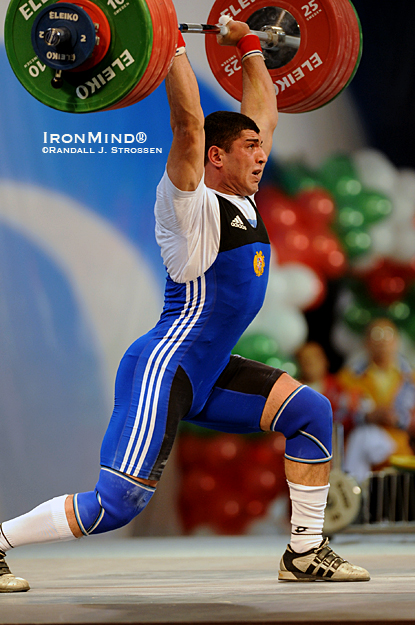 85-kg competitor Gevorik Pogoshian (Armenia) punches up 204 kg to claim the gold medals in the clean and jerk as well as the total at the European Weightlifting Championships. IronMind® | Randall J. Strossen photo.


Belarusian 85-kg star Andrei Rybakov was not entered, nor was his rapidly improving teammate Siarhei Lahun—both were reportedly in a period of "concentrated preparation," as they focused on top performances later this year. Representing the host country was Mikalai Novikau, the defending European champion and a man who seemed capable of repeating.

Novikau got off to a strong start with three successful snatches, ending with 171 kg which was the gold medal lift. Turkey's Izzet Ince and Armenia's Ara Khachatryan figured to be in the hunt for top honors in the snatch, but Ince missed his opener, 166 kg, and that limited his options. Khachatryan made 165 kg on his first attempt, but missed 170 kg twice, pushing him into the bronze medal in the snatch, edging out his teammate Gevorik Pogoshian on bodyweight.

Novikau lost ground in the clean and jerk when he only made his opener, 196 kg, twice missing the jerk with 202 kg, a lift that would have ended up giving him the gold medal in the total.

The Armenians had the top places in the clean and jerk to themselves, as they had the highest openers in the class—Khachatryan opening with a good 199 and Pogoshian hitting a good 200, with Khachatryan power jerking his opener, and Pogoshyan using a narrow split style jerk. Both went up 4 kg on their second attempts, and both made good lifts—with Khachatryan hitting a parallel squat on his jerk. Khachatryan missed the jerk on his third attempt, 205 kg, and Pogoshian couldn't stand up with 206 kg on his third attempt.

Pogoshian got gold medals in the jerk and in the total; Khachatryan earned silver in both, one kg behind his teammate. Bronze in the total, just one more kilo behind, was Novikau.