Hometown Hero Martin Wildauer Honored by Langkampfen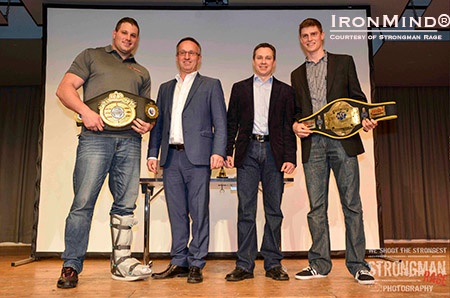 Martin Wildauer, who won the overall 2014 Strongman Champions League title, was recognized by his hometown (Langkampfen, Austria) for his accomplishment.





The town of Langkampfen, Austria celebrated local heroes Martin Wildauer, SCL World Champion, and Roman Bründl, European master kickboxing. Pictured with the Mayor and Vice Mayor, Andreas Ehrenstrasser and Rudolf Thaler.  IronMind® | Photo courtesy of Strongman Rage



Martin Wildauer's Hometown Celebrates Its World Champion
by Aryn Lockhart/Strongman Rage

Langkampfen, Austria—In the heart of the Austrian alps, the town of Langkampfen honored Martin Wildauer.  In grand fashion with the marching band and the Mayor in attendance, hundreds from the local community came out to support Wildauer and his international accomplishment.

Wildauer talked of his journey to the championship and described Strongman Champions League and its various stages. He spent time describing the intense competitions throughout the world in addition to the unique camaraderie among the athletes. He also talked of his injury indicating that his recover is going well and heavy training will begin in the coming weeks. In true champion form, Wildauer took the opportunity to present gifts to his friends and family while thanking them for their support on his journey to World Champion.

"I feel very honored that my town took the time to recognize me," Wildauer stated. "I love that more and more people are learning about the Strongman sport."

Strongman Champions League starts up again on the 31st of January in Norway. Wildauer, is not ready to compete, but is working to get healthy as quickly as possible with plans to defend his title.

                                                      ###

Want to talk strength?  Join the IronMind Forum. 

You can also follow IronMind on Twitter and on Facebook.