62-kg: Sergey Petrosyan Wins
Strasbourg - Doing the juniors proud, Sergey Petrosyan (Russia) won the men's 62-kg category at the European Weightlifting Championships today.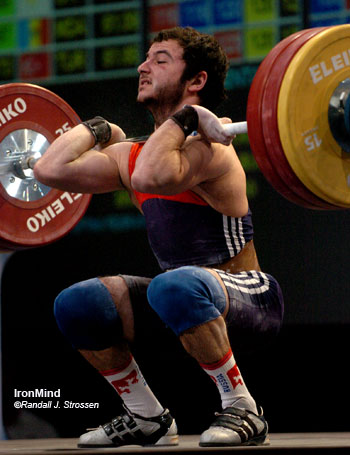 Sergey Petrosyan (Russia) shows that a junior can win at the Senior European Championships as he took the 62-kg category gold medals in the clean and jerk and the total today. IronMind® | Randall J. Strossen, Ph.D. photo.

Henadzy Makhveyenia (Belarus) won the snatches with 134 kg, building a good lead going into the clean and jerks, but after making his opener with 154 kg, he missed the jerk twice on 158, opening the door for his rivals.

These misses were all Sergey Petrosyan needed to make up his four-kilo deficit after the snatch, as he hit 155 on his opener, 159 on his second attempt, and with the clean and jerk and total gold medals in hand, he attacked 166 kg on his third clean and jerk, in a junior European record attempt. He got under the bar, but could not stand up with it.

Petroysan finished the night with a 289-kg total, followed by Makhveyenia (288 kg) and Turkey's Erol Bilgin (286 kg).

Earlier, in the women's 63-kg category, Maline Daluzyan (Armenia) set a new Junior European record in the snatch with 108 kg on her third attempt, and when everyone else was done, she won the gold medals in the clean and jerk as well as the total on her first attempt, 123 kg. Taking 135 on her second attempt, she made a good lift, for new Junior European records in both the clean and jerk, and the total. Sibel Simsek (Turkey) edged Hanna Batsiushka (Belarus) on bodyweight for the silver medal in the total, with 215 kg.