5x World's Strongest Man Mariusz Pudzianowski: Weighs 130, Fights at 125
He has won the World's Strongest Man contest a record 5 times, and was in the battle for a sixth title to the very end last year, but Mariusz Pudzianowski told IronMind® that he will not be returning to the World's Strongest Man contest this year.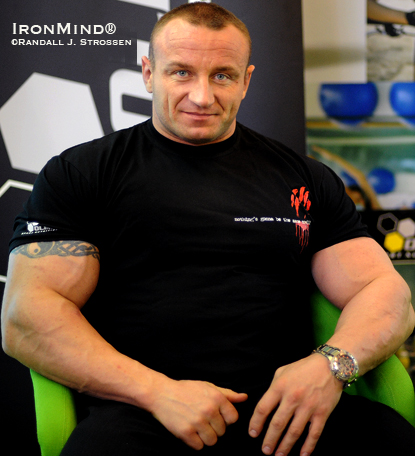 Relaxing in his sponsor's booth (Olimp Sport Nutrition) at the Salon Body Fitness Expo in Paris, France 10 days ago. IronMind® | Randall J. Strossen photo.


The winningest WSM of them all has never had a problem channeling his energy and talents into commercially successful ventures and when it was announced last year that Mariusz Pudzianowski was turning to MMA, capitalizing on his fighting skills, there was sense that this marked the end of his career in strongman.

Pudzianowski has not said that he has ruled out a return to strongman, but he has said that he has a series of fights lined up this year that will prevent him from returning to the 2010 edition of World's Strongest Man.

Physically, don't think Pudzianowski has shrunk to a shadow of himself—he weighs about 130 kg now, he told IronMind®, and fights at 125 kg. Twice a week he's in the gym, but it's a boxing and wrestling gym, he said, and his workouts now are very different.

How different?


How about 150-kg deadlifts.