5th WAA Armlifting World Championships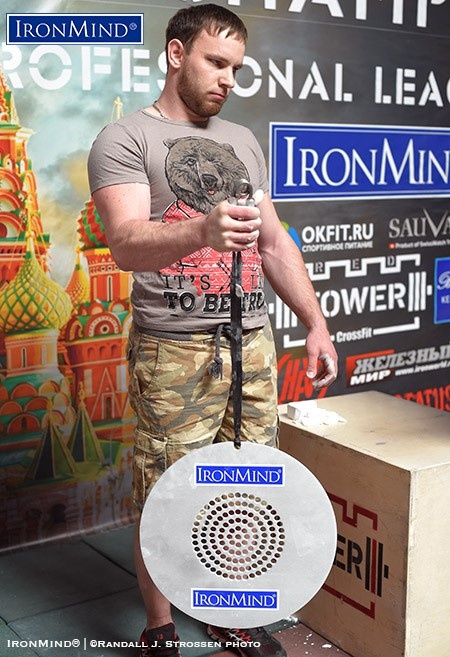 At long last, a few words about the 5th WAA Armlifting World Championships.
Dmitriy Suhovarov invited me to attend the 2015 WAA Armlifting World Championships in St. Petersburg, Russia—this was an easy decision for because it would allow me to attend a WAA World Championships for the first time, plus it was being in staged in what my friend Odd Haugen calls "the most beautiful city in Europe."
In 2010, IronMind was approached by a Russian colleague, requesting permission to hold grip contests—under the armlifting banner—using the Rolling Thunder and other IronMind equipment, an idea I was quick to support. From there, contests were organized in Russia and the Ukraine for both local and international competitions. The sport drew on a large base of arm wrestlers, as well as men and women who had competed in other strength sports or who had been bitten by the grip bug.
Since the required equipment was compact and relatively inexpensive, and since the contests were organized by gender, age and body weight, the competitions were all inclusive—and as a reflection of the sport's popularity, the competition in St. Petersburg drew nearly 200 competitors.
Staged in the Alex Fitness facility, this was the largest grip contest I've ever seen—by several orders of magnitude—and I tip my hat to Dmitriy Suhovarov, Andrey Sharkov and Vyacheslav Gorbunov for organizing and running a contest that began at noon on Friday, ran until well after midnight, and resumed at noon the next day and ran until about 11 pm.
Honored to be ask to give an opening talk, with Dmitriy Suhovarov translating, I mentioned how armlifting began, noted why it's so popular and said how much I appreciated the chance to be there in person.
Over the course of those two days, I saw many impressive efforts and had a chance to meet people whose names I'd known for years, along with many others—grip aficionados, all.
It was tremendous and I would like to echo something that I mentioned in my opening talk: we have had the pleasure of welcoming Alexey Tyukalov to California several times for Odd Haugen's grip contests, and I hope that more of the men and women I met in St. Petersburg will also come to California to show that when it comes to grip, "It's not just a crush, but an obsession."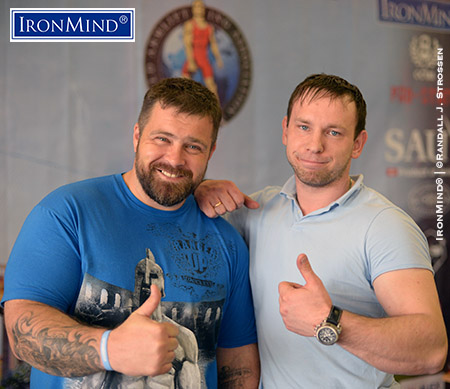 Andrey Sharkov (left) and Dmitriy Suhovara (right) organized, ran and competed in 2015 WAA Armlifting World Championships and IronMind would like to make special mention of how impressive Andrey Sharkov was in terms of training the referees on how to follow the letter and spirit of the rules for all the IronMind events. IronMind® | ©Randall J. Strossen photo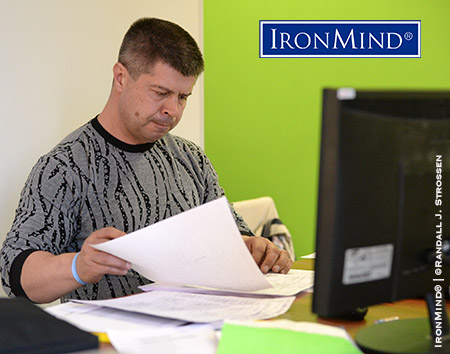 Also a principal was Vyacheslav Gorbunov, who handled the massive task of organizing the attempts and keeping score, class after class after class—Gorbunov pulled a Superman in between, changing from the suit and tie he wore while attending his official duties to his lifting clothes, so he could jump into the competition. IronMind® | ©Randall J. Strossen photo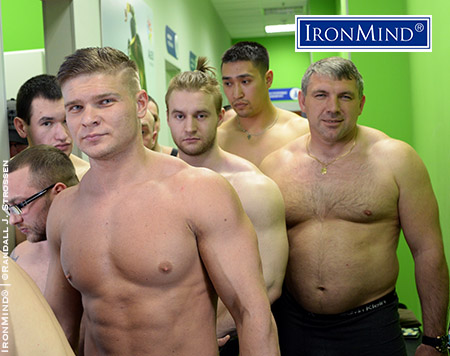 Here's a shot of the weigh-ins and that's Aleksandr Kirrilov (aka The Bending Machine) on the far right. As a gift to me, Kirrilov took an IronMind Gold Nail, cut a little less than an inch off the end, and—using leather pads—bent it in into a complete U-shape. IronMind® | ©Randall J. Strossen photo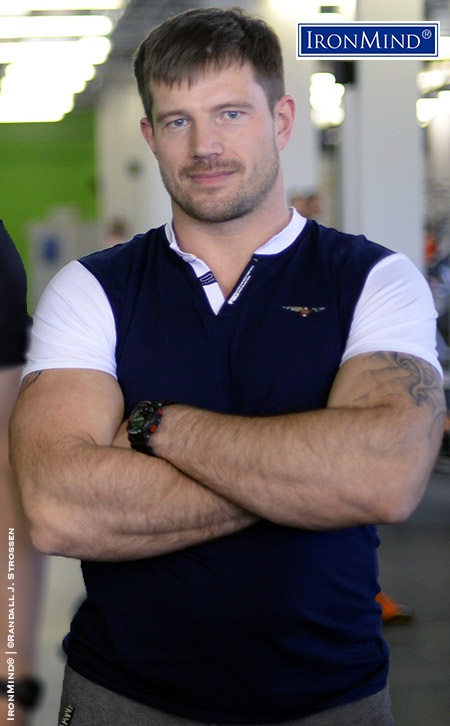 Remember Evgeniy Khrychin? Along with Sergey Daragan, Evgeniy Khrychin officially closed a Captains of Crush gripper on December 18, 2010—the first Russians to achieve this world standard—and was certified two days later. From those trailblazing days, things have exploded on the Russian grip scence: Five men officially closed the Captains of Crush No. 3 gripper in St. Petersburg and one offically bent the IronMind Red Nail. IronMind® | ©Randall J. Strossen photo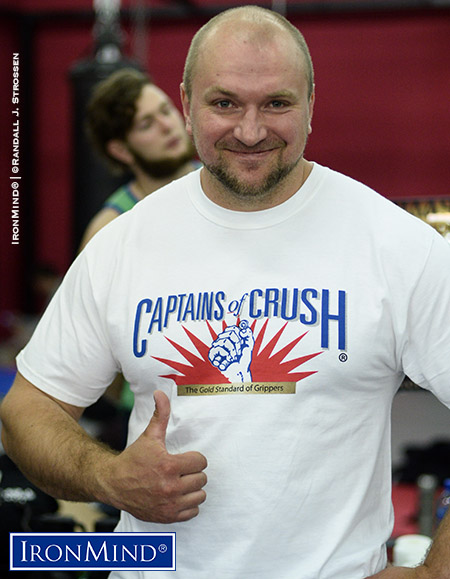 Also on hand was Aleksandr Assinowki (certified on the Captains of Crush No. 3 gripper in 2013 and the Crushed-To-Dust! Challenge also in 2013), who won the IronMind Hub with a lift of 27 kg. IronMind® | ©Randall J. Strossen photo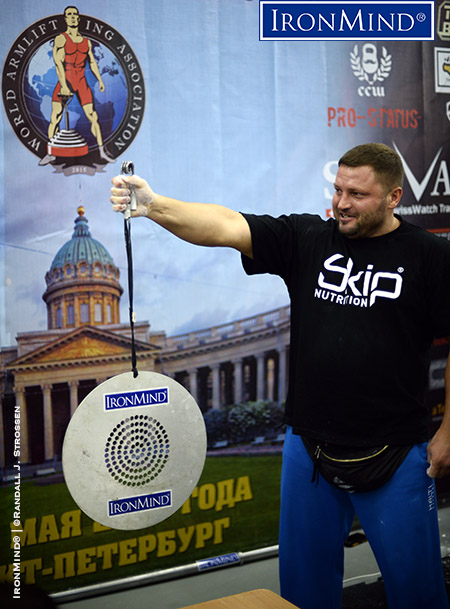 Alexey Tyukalov is a former world record holder on the CoC Silver Bullet and he won the event in St. Petersburg with a time of 46.65 seconds. IronMind® | ©Randall J. Strossen photo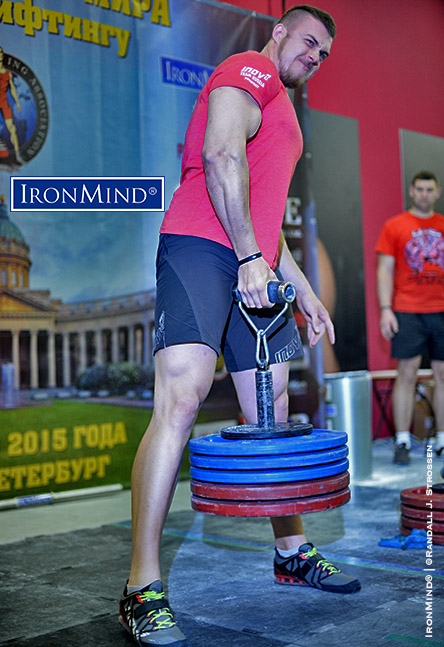 The Rolling Thunder is where armlifting began—it's recognized worldwide and will quickly sort the wheat from the chaff when it comes to grip strength. Roman Penkovsky pulled 118 kg to win the 110-kg class and beat world record holder Alexey Tyukalov (the current world record holder on the event) on body weight. IronMind® | ©Randall J. Strossen photo
                                         ###
You can also follow IronMind on Twitter and on Facebook.

Want to talk strength?  Join the IronMind Forum.