56-kg Category Red Hot at the World Weightlifting Championships
Chiang Mai, Thailand - It's not often that you can say a missed lift was a great attempt, but the 56-kg category at the World Weightlifting Championships tonight wasn't just fiercely competitive, but it also produced two remarkable attempts, both of which were unsuccessful lifts.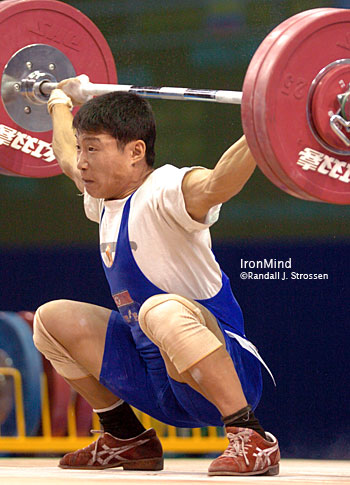 Cha Kum Choi (North Korea) might have had this 130-kg snatch turned down two to one, but he won the gold medal in the total in the 56-kg category at the World Weightlifting Championships today. IronMind® | Randall J. Strossen, Ph.D. photo.

Li Zheng (China) was an unstoppable powerhouse in the snatches, rolling through 125, 128 and 130, and each one was a demonstration of his strength, but the most remarkable attempt in the snatch had to be Cha Kum Choi's third attempt, as the North Korean lifter managed to somehow get under and fix overhead 130 kg on his third attempt. If that part was a battle, you should have seen his recovery, as he staggered, wilted, struggled upward, buckled, struggled upward again, and finally stood up with the weight. He was turned down two to one on the lift, and from the side there did seem to be some press out, but if there were an award for the toughest snatch anyone ever stood up with, this lift would have to be in the running for the honor.

Hoang Anh Taun (Vietnam) was in third place after the snatches and he appeared to be in solid contention for top honors in the total, but when time ran out on his first attempt (154 kg), something seemed to be amiss. He came out for his second attempt and when he was chalking up, with about a minute on the clock, he came back down the steps and the next thing you knew, his trainer was unzipping the back of his lifting suit, they pulled it down and they appeared to be grinding liniment into his lower back. With time rapidly winding down, Hoang got over the bar, ready to lift, but the he shook his head and left the platform. On his third attempt, with it clear that his back was really bothering him, he attacked the weight, went over backwards, appeared to be crushed by the bar across his throat and was in evident pain. The doctors assisted him and shortly after he seemed ok, and later he told IronMind® that he would be ready for Beijing.

And that wasn't even the greatest miss in the clean and jerks - that honor had to go to Wu Meijin (China) who had started the evening with a power jerk (145). On his second attempt, he squat jerked 150 and talk about a fight to gain control of the weight and stand up . . . the pint-sized 56-kg lifter put up a Herculean struggle to get the bar in position to recover, started up, the bar drifted out of position, down he went again, more fighting . . . would he make it? Wu Meijin eventually stood up with the bar overhead and at the last possible instant, he lost it behind and it all came crashing down. Huge effort.

In the end, Sergio Alvarez (Cuba) won the gold medal in the jerk with 156 kg and Cha Kum Choi got the gold in the total with 283 kg. This was a terrific class and showed once again that the saying "Dynamite comes in small packages" has some basis in reality.